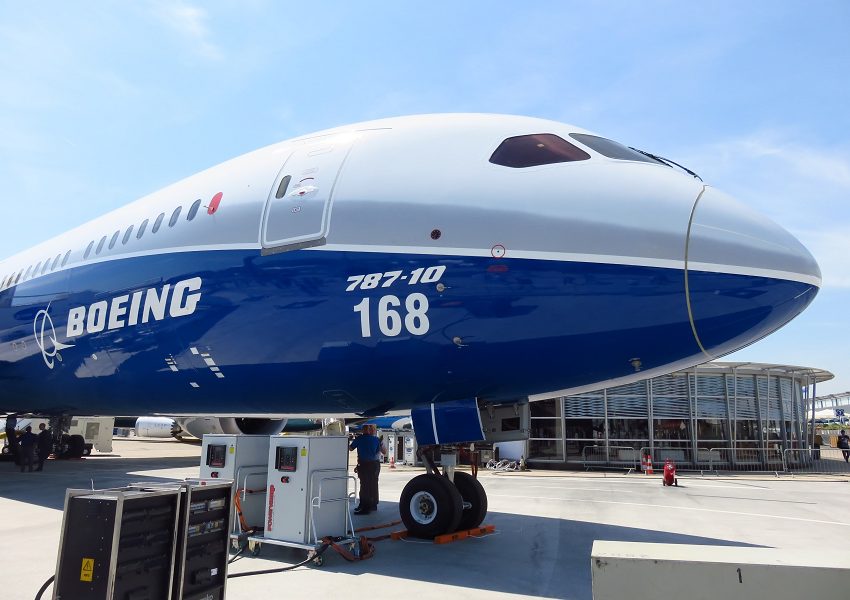 Boeing Gets Order Boost for Troubled 787 Dreamliner
This morning, Boeing (BA) received a major boost for its troubled 787 Dreamliner, whose order backlog has depleted rapidly. Boeing has announced 30 net firm orders for the aircraft from Emirates Airlines, worth $8.8 billion at the list price.
Article continues below advertisement
Article continues below advertisement
Significant boost for Boeing 787 Dreamliner
Boeing was in desperate need of new deals for its Dreamliner. The model's growth prospects seemed dim due to demand for the wide-body airplane falling. Between January and October, Boeing's net Dreamliner orders fell 67% YoY (year-over-year) to 43 units.
That rapid depletion could disrupt the model's production plans. Currently, the company builds 14 Dreamliner planes per month. However, it has received an average of four Dreamliner orders per month this year.
Considering the situation, Boeing intends to reduce its monthly Dreamliner production by two units to 12 units in late 2020. Since the program began in 2007, Boeing has received 1,455 requests for the Dreamliner. Of that total, it has delivered 906, and 549 orders were unfulfilled as of October 31.
The Emirates Airlines deal could help Boeing maintain its Dreamliner production rate. And the model has attracted more customers. Yesterday, the Republic of Ghana signed a memorandum of understanding to purchase three 787-9 Dreamliners for $877.5 million in total.
Additionally, last Sunday, Biman Bangladesh Airlines ordered two 787 Dreamliners in a deal worth $585 million. In October, Air Lease (AL) converted its order for 15 737 MAXs to five 787-9 Dreamliners. To learn about other challenges related to the plane, read Boeing 787: Trouble Due to Whistleblower's Claims?
Article continues below advertisement
Twist in Emirates Airlines order
A new deal for the Dreamliner is good news for Boeing, but there's a twist. Emirates Airlines' latest order is a swap for its earlier commitment for 30 of Boeing's ultra-large wide-body 777-9 Dreamliners. The recent development brings Emirates Airlines' total 777X orders to 126 jets from 156. However, the carrier remains the largest Boeing 777X customer.
Emirates Airlines' order swap comes in the wake of the 777X's continuous launch delays. Boeing had initially planned to launch the aircraft last year. However, due to operational issues with General Electric's (GE) GE9X engines, the launch was postponed to March 2019, July 2019, and then to late 2020. During its third-quarter results announcement, Boeing further postponed the launch date to early 2021.
The 777X delay has hampered Emirates Airlines' expansion plans. The airline's latest order swap may be its attempt to stay on track with those plans. Emirates Airlines' $16 billion deal with Airbus to buy 50 A350-900s may also be part of that expansion strategy.
Boeing at Dubai Air Show
Boeing and Emirates Airlines signed the Dreamliner contract on the fourth day of the ongoing Dubai Air Show. One of the world's largest annual aviation events, it began on November 17 and will run through tomorrow. After a slow start on the first day of the show, Boeing has since managed to grab $15.1 billion in deals.
New orders for its troubled 737 MAX may be the most surprising. Boeing got its first official order for the MAX since its grounding in mid-March, despite ongoing uncertainties over its return. Turkey-based SunExpress signed a deal to buy ten 737 MAXs, valued at $1.2 billion. Additionally, Air Astana has signed a letter of intent to purchase 30 MAX airplanes for a total of $3.6 billion at the list price.
New orders for the troubled MAX are major boost for Boeing. The company had lost large orders to Airbus due to uncertainties over the MAX's return. For example, low-cost carrier Spirit Airlines (SAVE) chose Airbus over Boeing for 100 narrow-body aircraft.