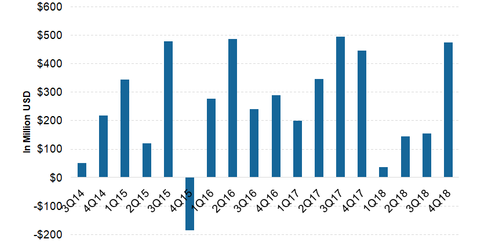 Aurora Cannabis Stock Fell Approximately 9%: Time to Buy?
By Adam Jones

Updated
Aurora Cannabis stock fell
However, the explanation didn't convince investors. Aurora Cannabis stock fell 8.9% on Thursday. The company's weak fourth-quarter performance dragged the entire cannabis space down. Meanwhile, the ETFMG Alternative Harvest ETF (MJ) and the Horizons Marijuana Life Sciences Index ETF (HMMJ) fell approximately 2.5% on Thursday. Canopy Growth (CGC) (WEED), Aphria (APHA), and Cronos Group (CRON) fell 2.9%, 3.4%, and 1.2%, respectively.
Aurora Cannabis's revenue growth
Although Aurora Cannabis's revenues fell short of analysts' expectation, they grew 51.9% sequentially. Notably, the company's cannabis sales were 94.6 million Canadian dollars. The sales were in line with the management's guidance of 90 million–95 million Canadian dollars. The company's revenues rose 61.4% sequentially from the third quarter. Canopy Growth, Aphria, and Cronos Group reported sequential revenue growth of -3.8%, 75%, and 58.3%, respectively.
The sales growth in the medical cannabis, consumer cannabis, and wholesale bulk cannabis segments drove Aurora Cannabis's revenues. During the quarter, medical cannabis sales rose 9.8%, consumer cannabis rose 51.7%, and wholesale bulk cannabis sales rose 869.5%. Consumer and wholesale bulk cannabis products have a lower selling price. So, the growth in their sales lowered the company's average selling price by 1.08 Canadian dollars per gram to 5.32 Canadian dollars. Sequentially, the company's production capacity rose 86.2% during the quarter to 29,034 kilograms. The company's production capacity rose due to the opening of Aurora Sky, Aurora River, and Aurora Ridge facilities.
Improved profitability
Aurora Cannabis reported gross margins of 58%, which improved from 55% in the third quarter. Lower production costs and higher gains due to bulk sales drove the company's gross margins. Improved manufacturing efficiencies and leverage from higher sales lowered the company's cost of production by 19.7% to 1.14 Canadian dollars per gram.
For the quarter, Aurora Cannabis's EBITDA was -11.7 million Canadian dollars. The EBITDA improved from 36.6 million Canadian dollars in the third quarter. During the quarter, the company's SG&A expenses rose 9% to 72.9 million Canadian dollars. The company had higher shipping and fulfillment expenses due to increased consumer cannabis sales. Also, Aurora Cannabis's continued investments in growth initiatives, like research, product innovations, and increasing brand awareness, drove its SG&A expenses.
YTD stock performance
Despite yesterday's fall, Aurora Cannabis has returned 21.7% YTD (year-to-date). So far, the company has outperformed its peers and the broader equity market this year. During the same period, Canopy Growth, Aphria, and Cronos Group have returned -1.4%, 16.3%, and 7.4%, respectively. The S&P 500 Index, MJ, and HMMJ have increased 18.8%, 2.2%, and 4.5%, respectively.
Canopy Growth reported a weak first-quarter performance on August 14, which led to a fall in its stock price. However, the company's ex-CEO, Bruce Linton, is optimistic about the growth initiatives. Linton increased his stake in the company. Read Canopy Growth: Bruce Linton Is Buying, Should You? to learn more.
Aphria reported strong fourth-quarter earnings on August 1, which led to an increase in its stock price. To learn more about Aphria's growth prospects, read Why Aphria Expects Huge Revenue Growth.
Cronos Group reported its second-quarter earnings on August 8. The company beat analysts' revenue expectations. However, the operating losses were higher than analysts' expectations, which caused the stock price to fall.
Aurora Cannabis's outlook
Currently, cannabis can only be sold as a dry flower, oil, or gels in Canada. However, the regulations will change with the second phase of legalization later this year. The second phase, "Cannabis 2.0," will legalize selling cannabis derivative products like vapes, mints, gummies, and chocolates.
Aurora Cannabis has taken the required initiatives to capture the cannabis derivative market. In the press release, the company's CFO, Glen Ibbott, said, "With the Canadian launch of derivative products in the coming months, we have made the necessary investments to ensure readiness and focus on a variety of value-added products. We are very excited to supply an expanded consumer market with premium cannabis and new product forms."
Notably, Aurora Cannabis owns GMP (Good Manufacturing Practices) certifications for two of its facilities. During the earnings call, the company's management announced that its Aurora River and Aurora Vie facilities are in the final stages of receiving GMP certifications. We expect the certifications to boost the company's exports to Europe.
Adding the Aurora Sky, Aurora River, and Aurora Ridge facilities increased the company's production capacity. In the first quarter of fiscal 2020, the company expanded its extraction capacity to 45,600 kilograms per annum. Aurora Cannabis and UFC have partnered to study the effectiveness of hemp-derived CBD products in treating various medical conditions in MMA athletes. The company plans to use the data to develop hemp-derived CBD topicals.
With all of these initiatives, we think that Aurora Cannabis is positioned to capture the growing international medical cannabis business and Canadian cannabis derivatives market. We expect the stock to face near-term pressure due to weak fourth-quarter revenues. However, we think that the stock's long-term growth story is intact.