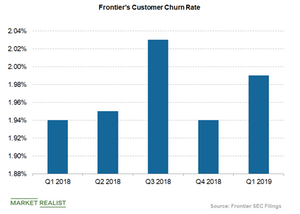 Why Did Frontier's Customer Churn Rate Increase in Q1?
Frontier's customer retention rate in the first quarter
Frontier Communications (FTR) has been making efforts to retain its customers and maintain a lower churn rate in a highly competitive telecommunications sector. However, in the first quarter of 2019, Frontier's consumer churn rate of 1.99% was higher than both the previous year's churn and the preceding quarter's churn of 1.94%.
A higher rate of video customer losses in the first quarter of 2019 in comparison to the previous year's quarter and the preceding quarter led to higher churn rates, though the company managed to improve the losses in its broadband customers. The company is undertaking a wide range of initiatives to improve its churn in the coming quarters.
Article continues below advertisement
Churn rate comparison
Among the best telecommunications players in the United States, Verizon (VZ) reported a postpaid phone churn rate of 0.84% in the first quarter. Rival T-Mobile (TMUS) reported a postpaid phone customer retention rate of 0.88%, and AT&T (T) reported a postpaid churn rate of 0.93%. Sprint (S) will soon report its earnings for the fourth quarter of fiscal 2018 (which ended on March 31), and analysts expect it to report a postpaid phone churn rate of 1.85%.
Telecom companies struggle to retain customers
Telecommunications companies are struggling to retain their subscribers in a saturated US wireless market. Increased competition in the online video streaming space has further pressured these companies. Amazon Prime (AMZN) and Netflix (NFLX) are the leading players in the video streaming market.
Telecommunications and media rivals the Walt Disney Company (DIS) and AT&T's WarnerMedia are also scheduled to launch their streaming services in late 2019. Comcast (CMCSA) is planning to debut its streaming service in early 2020 at ~$12 per month for users who don't have a cable subscription. Apple's video streaming service is expected to roll out in the fall, but the company hasn't disclosed its pricing. The cost of Disney's streaming service will be $6.99, lower than Netflix's $8.99 per month for a basic plan.