What Will Affect GoPro Stock Going Forward?
Though GoPro (GPRO) stock has gained an impressive 60.0% in 2019, it's fallen close to 80% since its IPO in June 2014.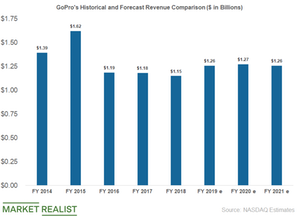 Revenue growth is a concern
Though GoPro (GPRO) stock has gained an impressive 60.0% in 2019, it's fallen close to 80% since its IPO in June 2014. GoPro could be immune to trade war concerns after shifting the manufacturing base for its US-bound products to Mexico, but the company operates in a very niche segment and could find it difficult to grow its sales exponentially due to tepid global demand for action cameras.
This difficulty is expected despite GoPro's having a unit market share of 89% in the action camera category in the United States. Further, GoPro's devices might not be well received in developing and emerging markets due to their high price points.
Article continues below advertisement
Article continues below advertisement
GoPro's sales reached an all-time high of $1.62 billion in 2015. Its sales have since fallen to $1.19 billion in 2016, $1.18 billion in 2017, and $1.14 billion in 2018. While analysts expect its sales to reach $1.25 billion in 2019 and $1.27 billion in 2020, these figures are still far below its record sales figures from 2015.
Earnings expansion impressive
GoPro has also been posting non-GAAP (generally accepted accounting principles) losses since 2018. Analysts expect GoPro's earnings to reach $0.38 in 2019, up from -$0.23 in 2018. Its earnings could reach $0.43 in 2020.
However, while its EPS may expand by 265% in 2019, analysts expect its EPS to rise just 10% annually over the next five years.
Product launches
GoPro remains optimistic about strong demand for the HERO7 Black line of products. An effective channel and consistent demand for the HERO7 resulted in improvements in GoPro's channel marketing collaboration with its distributors and global retail partners. GoPro expects robust demand for the HERO7 line to continue in the second quarter as well.
During its first-quarter earnings call, GoPro announced that it would be launching a refreshed line-up of products across a variety of price points in the holiday quarter of 2019. Investors will need to wait and see whether this translates to revenue growth for GoPro.