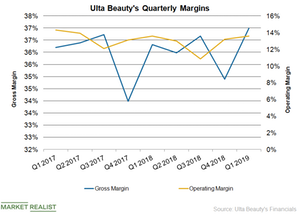 What Drove Ulta Beauty's Margins in the First Quarter
By Sirisha Bhogaraju

May. 31 2019, Published 2:23 p.m. ET
What drove Q1 gross margin
Ulta Beauty's (ULTA) sales grew 12.9%, and its adjusted EPS rose 20.7% in fiscal 2019's first quarter, which ended on May 4. The company's gross margin expanded by 70 basis points to 37.0% in the first quarter, driven by a higher merchandise margin and leverage in rent and occupancy expenses on strong sales growth. However, investments in the company's salon services business and supply chain operations hurt Ulta's gross margin.
Article continues below advertisement
Operating margin
Ulta Beauty's operating margin remained unchanged on a year-over-year basis at 13.6% in the first quarter of fiscal 2019. The higher gross margin was offset by a rise in Ulta's SG&A expense rate. First-quarter SG&A expenses as a percentage of sales increased by 70 basis points due to deleveraging in corporate overheads associated with growth investments and store labor, partially offset by leverage in variable store and marketing expenses.
Pre-opening expenses decreased by about $1.0 million to $4.2 million as the company opened 22 new stores and remodeled one store in fiscal 2019's first quarter, compared to 34 new stores opened and two stores remodeled in Q1 of fiscal 2018.
Ulta expects to improve its fiscal 2019 gross margin by expanding its merchandise margin, leveraging fixed costs on strong sales, and benefiting from its credit card program. The company expects its SG&A expense rate to deleverage this year due to higher store labor costs and investments in innovation and growth initiatives. Ulta expects 10 to 20 basis points of expansion in its operating margin in fiscal 2019.
As part of its growth plans, Ulta Beauty announced that it intends to capture opportunities in the international market—with Canada as the first market outside the United States where it would launch its stores and e-commerce channel.