What Chip Ban Means to Huawei and US Chip Suppliers
The United States is the biggest supplier and China is the biggest consumer of semiconductors in the world.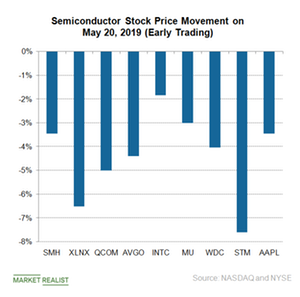 The interdependence of the United States and China
The United States is the biggest supplier and China is the biggest consumer of semiconductors in the world. China and Huawei depend on American chip suppliers to produce PCs, smartphones, and other devices. Even American suppliers need Chinese customers. The US-China trade war and a ban on Huawei are disrupting this interdependence and impacting the semiconductor industry at large.
Article continues below advertisement
Article continues below advertisement
Chip ban
A Bloomberg report stated that US chip companies Intel, Qualcomm, Broadcom, and Xilinx halted shipments to Huawei, sending the VanEck Vectors Semiconductor ETF (SMH) down more than 3% at the start of May 20 trading. The biggest decline was reported by Xilinx (XLNX), which fell 6.5%. Huawei uses Xilinx's and Intel's Altera field programmable gate arrays in its base stations to connect smartphones to wireless networks. Xilinx earns 26% of its revenue from China.
Xilinx was followed by Qualcomm's (QCOM) stock, which fell 5%, as it earns 67% of its revenue from China and more than 10% of its revenue from Huawei. Qualcomm supplies modems and mobile processors for Huawei's high-end phones. Broadcom's stock fell 4.4% as it supplies switching chips for Huawei's networking machinery. Intel's stock fell 1.84%, as it supplies x86 PC processors for Huawei's PCs. The above chip suppliers did not comment on the Bloomberg report.
Article continues below advertisement
Google ban
Google (GOOG) abruptly rescinded Huawei's Android license, leaving it with access only to the open-source version of Android. Huawei's existing customers can continue using Google's apps, but its future smartphone versions will not have access to Google's proprietary Google Play Services and Play Store apps like Gmail, YouTube, and the Chrome browser.
Impact on Huawei
Google's ban will put Huawei out of the Android smartphone market. The chip ban restrains Huawei from getting critical components for its PC, smartphone, and networking products.
Bloomberg stated that Huawei already prepared for a ban by accumulating at least three months of inventory. However, this situation is not sustainable. Thus, Huawei has been developing its own technology to reduce its dependence on the United States.
If China decides to retaliate, it might target Apple, the largest US-based handset maker that depends on China to manufacture almost all its iPhones. Apple's stock fell 3.3% in early trading on May 20.
Check out all the data we have added to our quote pages. Now you can get a valuation snapshot, earnings and revenue estimates, and historical data as well as dividend info. Take a look!