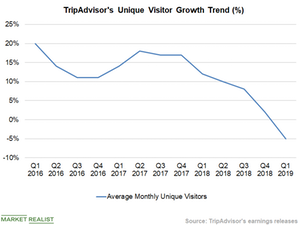 TripAdvisor's Monthly Unique Visitors Fell in the First Quarter
Unique visitors declined
TripAdvisor's (TRIP) average monthly unique visitors fell 5% YoY to 411 million users in the first quarter due to its hotel marketing optimization initiatives. The YoY decline is in contrast to the company's performance last year, wherein it reported 11% YoY unique visitor growth.
Article continues below advertisement
Rising competition from Alphabet (GOOGL) and local and regional players could also be one of the reasons behind TripAdvisor's dismal unique visitor growth performance. For the last few years, Alphabet has been aggressively enhancing its own travel products. Considering its extensive online resources, capital availability, and advertisement capabilities, Alphabet is a threat to every online travel agency.
User reviews improved
TripAdvisor reported a YoY improvement in user reviews. User reviews on the company's website reached 760 million, representing YoY growth of over 20%. The massive increase in user reviews helps TripAdvisor create brand awareness and drive users to its website.
TripAdvisor's strong efforts toward improving the user base through marketing initiatives and continuously enhancing mobile-centric product design have been attracting new users.
Under its mobile-centric product design, the online travel agency has developed application systems that are compatible with all of the major operating systems including Alphabet's Android OS, Apple's (AAPL) iOS, and Microsoft's (MSFT) Window OS. TripAdvisor's website and mobile applications are accessible in 20 different languages, which help it attract new visitors.
One of the company's important marketing strategies is to keep its site free to access and upload data on it. The marketing strategy makes it convenient and cost-effective for many small, local, and regional travel agencies to post their content on its website, which helps TripAdvisor enhance its clientele.
Furthermore, TripAdvisor has been rationalizing its marketing expenses for the past couple of years. The company is putting more emphasis on TV advertising and reducing online advertising in areas where it isn't profitable.