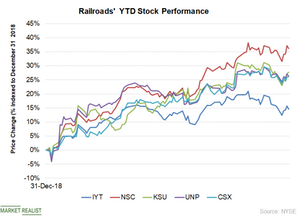 Railroad Stocks Have Outperformed in 2019
Railroads outperformed market
So far, railroad stocks have made a remarkable run in 2019. Most of the railroad stocks have outperformed the broader market returns. The iShares Transportation Average ETF (IYT), which invests in US transportation stocks available in the Dow Jones Industrial Average, has risen 14.6% YTD (year-to-date). IYT has outperformed major US indices including the Dow Jones and the S&P 500, which have gained 10.4% and 14.1%, respectively, YTD.
Among the major railroad stocks, Norfolk Southern (NSC) is the best performer. Norfolk Southern has gained 36.1% in 2019. Shares of Kansas City Southern (KSU), Union Pacific (UNP), and CSX (CSX) have returned 27.8%, 26.3%, and 26.2%, respectively.
Article continues below advertisement
What drove this optimism?
Back-to-back quarters of better-than-expected earnings results, initiatives to improve the operating ratio, and shareholders' friendly moves are driving railroad stocks higher.
Union Pacific has beat analysts' earnings estimates in the previous five quarters. The company has registered strong double-digit YoY (year-over-year) growth. The company's first-quarter bottom-line results benefited from reduced fuel costs, efficient cost management, and reduced outstanding shares, which more than offset the negative impact of lower revenues. The railroad's operating ratio contracted by 100 basis points to 63.6% in the first quarter. A lower ratio signifies improved operating efficiency.
CSX has also beaten analysts' earnings estimates in the trailing five quarters. CSX has recorded over 30% YoY growth as well. Increased revenues and reduced costs drove the company's first-quarter earnings higher. CSX's operating ratio fell by 420 basis points to 59.5%.
Norfolk Southern's first-quarter results marked the tenth consecutive quarter of better-than-expected and double-digit bottom-line growth. The company's operating ratio in the first quarter contracted by 330 basis points to 66%.
Increased pricing and improved efficiency drove Kansas City Southern's first-quarter earnings higher. The company's latest quarterly results marked the fifth consecutive quarter of double-digit bottom-line growth. The company's earnings have beat analysts' estimates four times in the last five quarters. Kansas City Southern recorded a 160 basis points contraction in its first-quarter operating ratio, which came to 64.2%.