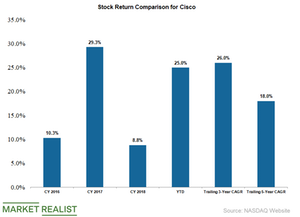 Is Cisco Stock Trading at a Discount to Analysts' Price Target?
By Adam Rogers

May. 8 2019, Updated 10:36 a.m. ET
CSCO's returns
Cisco (CSCO) stock has fallen 0.4% since the beginning of April. So far, it's fallen 4.5% in May. Since the beginning of 2019, Cisco stock has risen 37%. The stock fell this month after President Donald Trump tweeted about raising tariffs on China from 10% to 25%. Another tariff might be levied on $325 billion worth of goods.
Cisco doesn't have large exposure in China. However, the broader tech sell-off on May 7 sent Cisco stock down 2.1%. The stock could be volatile in the short term driven by trade war concerns as well as its stellar run this year.
Article continues below advertisement
Cisco shares have outperformed the market over the last three years. In fact, Cisco has outperformed high-growth companies such as Facebook (FB) and Google (GOOGL) in the last three years. The stock has risen at CAGRs (compound annual growth rate) of 26% in the last three years and 18% in the last five years. Comparatively, Facebook and Google have risen 16.5% and 17%, respectively, in the last three years.
Cisco stock is trading at $53.45, 33% above its 52-week low of $40.25 and 7% below its 52-week high of $57.53.
Is Cisco stock trading at an attractive valuation?
Cisco shares are trading at a forward PE ratio of 16.7x for 2019. The company's earnings are expected to rise over 18% in 2019. When you include Cisco's dividend yield of 2.6%, the stock seems undervalued and is a good pick considering its earnings expansion.
Cisco's earnings are expected to grow at a CAGR of 9.9% in the next five years. Its sales could rise 4% annually over the next three years.
Among the 27 analysts covering Cisco, 19 have given it "buys," eight have given it "holds," and none have given it "sells." The average 12-month target price for Cisco is $55.96. The stock is trading at a discount of 5% to analysts' average estimate.