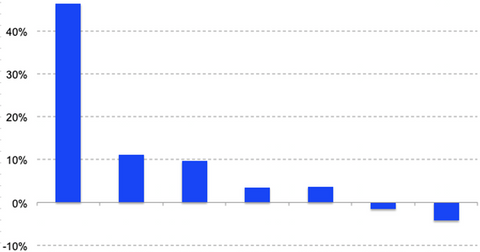 How HPE Performed in the Most Recent Quarter
By Sanmit Amin

May. 24 2019, Published 2:31 p.m. ET
HP Enterprise's revenue shrank for the second straight quarter
Business technology provider Hewlett Packard Enterprise (HPE) reported its second-quarter 2019 (quarter ended April 2020) earnings on Thursday, May 23. The company's revenue growth fell for the sixth straight quarter and saw negative YoY growth for the second straight quarter.
The company generated $7.15 billion during the second quarter, a decline of 4.3% YoY, worse than what Wall Street had projected. The company's stock fell 1.2% in after-hours trading on Thursday. The company posted a net profit of $419 million during the quarter, a fall of 46% YoY. It made $0.30 on a per share basis. Excluding non-recurring items, the company made $0.42 per share, higher than Wall Street estimates of $0.36 per share.
Article continues below advertisement
HPE still depends largely on its hybrid information-technology business
The company, which spun off from Hewlett-Packard four years ago, has been trying to overhaul its business through HPE Next, which focuses on segments like data analytics and high-performance computing. To that end, the company acquired Cray, which is into supercomputers, data storage and analytics, for $1.44 billion to focus more on high-performance computing.
The company's revenue from its core hybrid information-technology division fell 4% to $5.6 billion. The company still generates nearly 80% of its revenue from this unit.
The company's sluggish growth over the past year has caused its stock to decline by 8.1% in the past year.