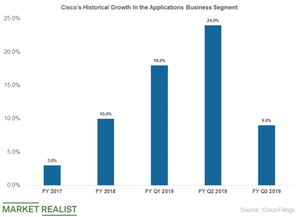 How Did Cisco's Applications Business Perform in Q3?
By Adam Rogers

Updated
Application revenue rose 9% in Q3 2019
Cisco (CSCO) is a market leader in the enterprise application business segment as well. This segment accounts for sales from Cisco's collaboration, Internet-of-Things, and analytics offerings. In the third quarter of 2019, Cisco's Applications business revenue rose 9% YoY to $1.4 billion. This segment accounted for 11% of total revenue in Q3.
Cisco stated that execution in the collaboration business was key, as these platforms are fast becoming critical for enterprises to manage workforce. Enterprises are looking to enhance meeting experiences, and Cisco now needs to focus on providing a personalized experience.
Article continues below advertisement
Cisco introduced several collaboration capabilities within its WebEx portfolio. It has integrated artificial intelligence (or AI) and email to improve context and intelligence for meetings. The new capabilities include facial recognition and WebEx calling, making the workflow simple for customers. AI and machine learning capabilities will be integrated across collaboration services such as calling, messaging, meetings, contact center, and devices.
Cisco also experienced strong growth from AppDynamics, as enterprises continue to adopt its application intelligence platform for faster decision making. AppDynamics also helps to manage end-to-end application performances across cloud environments.
Cisco CEO Charles Robbins stated, "AppDynamics is the market leader and application and infrastructure analytics delivering unparalleled innovation. We offer the most comprehensive end-to-end visibility from connected devices and applications to the underlying network providing better application performance and user experience."
Application revenue growth was 10% in fiscal 2018
As we can see in the above chart, Cisco's Applications sales rose 3% in fiscal 2017 and 10% in fiscal 2018. Sales rose by an impressive 18% in the first quarter of fiscal 2019 and by 24% in the second quarter.