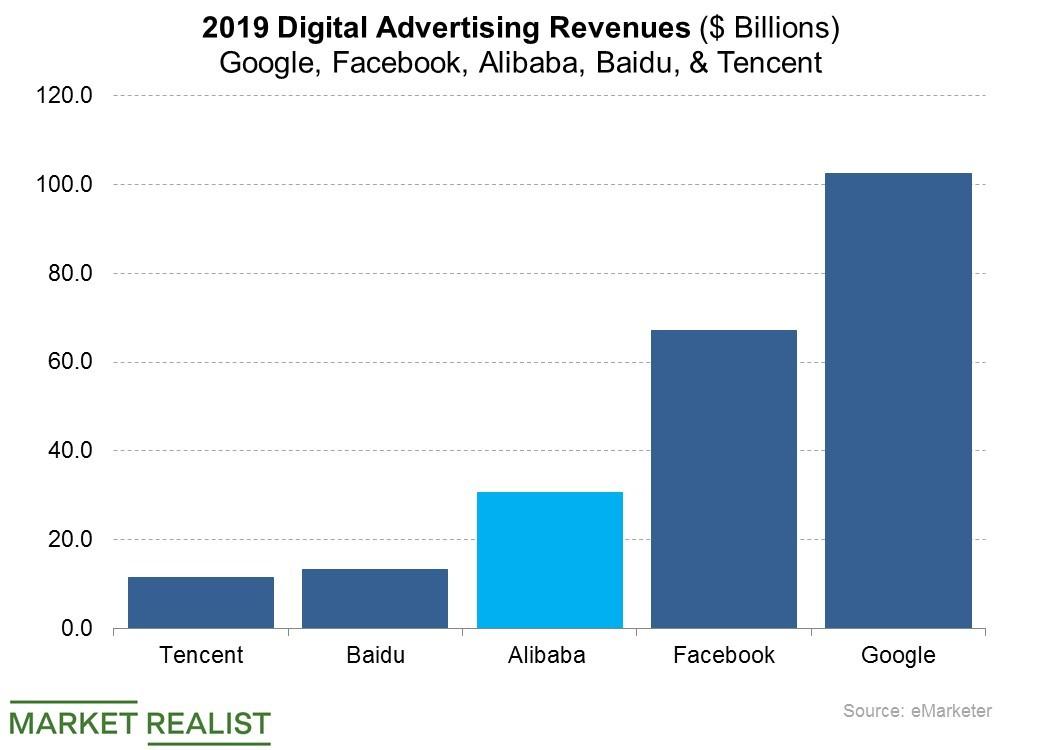 How Big Is Alibaba's Advertising Revenue?
Alibaba helping brands reach over 650 million consumers across China
Alibaba (BABA) finished the March quarter with 654 million active shoppers across its retail marketplaces in China, up from 552 million shoppers in the March quarter of 2018. Alibaba's growing shopper base not only means a larger customer base, but it also means a larger audience to power its advertising business.
In just a few years, Alibaba has emerged as one of the world's digital advertising powerhouses. According to eMarketer estimates, Alibaba will generate $30.5 billion in digital advertising revenue in 2019, making it the world's third-largest digital ad seller behind Google (GOOGL) and Facebook (FB), whose advertising revenues are forecast to hit $102.4 billion and $67.2 billion, respectively.
Article continues below advertisement
Alibaba benefits from a shift in online product search habits
In China, Alibaba takes the crown as the country's largest digital advertising company in terms of revenue. Alibaba's top Chinese digital advertising rivals Baidu (BIDU) and Tencent (TCEHY) are only expected to generate $13.2 billion and $11.4 billion in worldwide advertising revenue in 2019, respectively.
In addition to Alibaba's investments in its advertising business, the company is also a beneficiary of the trend where consumers are choosing to start their online shopping journey on marketplaces rather than on general search platforms such as Google. This trend is also a boon to Amazon's (AMZN) advertising business, leading to Amazon last year rising to become the third-largest digital advertising company in the United States. Amazon's share of the US digital advertising market is forecast to expand this year, whereas Google's share of the market is forecast to shrink.