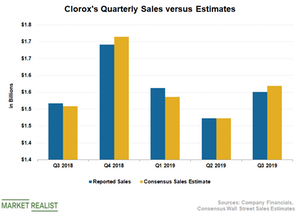 Currency and Competition Hurt Clorox's Q3 Sales
Sales missed estimates
Clorox (CLX) posted net sales of $1.55 billion, which fell short of Wall Street's estimate of $1.57 billion, reflecting currency volatility and weak sales in the household and cleaning segment. Currency volatility adversely impacted net sales by 3%. Despite challenges, Clorox's top line marked YoY improvement of 2.2%, driven by a 3% contribution from its Nutranext acquisition and higher pricing.
An unfavorable foreign currency exchange rate dragged down revenues of the company's peers including Colgate-Palmolive (CL), Kimberly-Clark (KMB), and Procter & Gamble (PG). However, higher pricing and mix supported organic sales growth, and in turn, the net sales.
Article continues below advertisement
Sales by segments
Sales in the Cleaning segment (including Laundry, Home Care, and Professional Products) dipped 1% as growth in the Home Care segment was more than offset by lower sales in the Wipes and Professional Products category, reflecting a mild cold and flu season and heightened competitive activity.
Net sales in the Household segment (including Bags and Wraps, Charcoal, Cat Litter, Digestive Health) decreased 1% on a YoY basis, reflecting declines in Bags and Wraps offset in part by growth in the Cat Litter and Charcoal category. The company's higher pricing negatively impacted sales in the Bags and Wraps category amid a heightened promotional environment. Meanwhile, distribution losses further remained a drag.
The Lifestyle segment (including Dressings and Sauces, Water Filtration, Natural Personal Care, Dietary Supplements) posted 23% growth in sales, driven by the Nutranext acquisition and stellar growth in the Natural Personal Care and Water Filtration category. International sales dipped 5% as benefits from higher pricing were more than offset by unfavorable currency exchange rates.
Outlook
We expect Clorox's top line to continue to take a hit from lower sales in the Bags and Wraps category, reflecting a higher promotional environment and distribution losses. Meanwhile, a mild cold and flu season and competitive headwinds are likely to drag sales of Wipes down. Meanwhile, currency volatility could further suppress sales.
Clorox's management now projects net sales growth of 2%–3% in fiscal 2019. Earlier, management forecasted net sales to grow by 2%–4%.