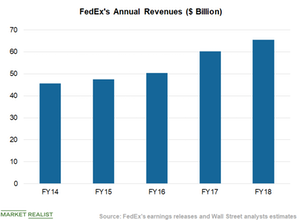 Acquisitions Remain a Key Global Expansion Strategy for FedEx
Growing through acquisitions
Acquisitions have remained a key global expansion strategy for FedEx (FDX), expanding the delivery giant's global footprint, enhancing its capabilities, establishing new business relationships, and adding customers. Its latest acquisition, Flying Cargo's international business, is set to give FedEx the former's cargo fleets and help it compete with DHL Express in the Israeli market.
FedEx acquired two important assets last year. It bought P2P Mailing Limited for 92 million British pounds in March, enhancing its last-mile delivery service across the United Kingdom, and Manton Air-Sea for ~$10 million in October, expanding its logistics and delivery services across Australia.
Article continues below advertisement
Article continues below advertisement
FedEx's biggest acquisition
FedEx's acquisition of European delivery giant TNT Express in 2016 for $4.8 billion was its largest ever. However, the company has not been able to completely integrate TNT Express due to multiple reasons.
During its third-quarter fiscal 2019 earnings release on March 19, FedEx revealed that since it requires consultations with employee representatives across several countries, the integration process is taking time. It anticipates completing the integration by the end of fiscal 2019, at which point it expects to grow its European footprint immensely and save costs.
Most of FedEx's logistics competitors have been quiet on the acquisition front in the last year. United Parcel Service's (UPS) last acquisition was in 2017, while XPO Logistics' (XPO) was in 2015. After being silent for 1.5 years, C.H. Robinson Worldwide (CHRW) acquired Space Cargo for $48 million in March.