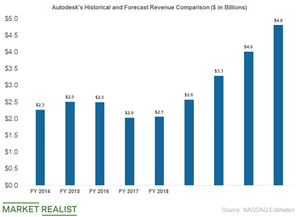 A Look at the Key Revenue Drivers for Autodesk in 2020 and Beyond
Record revenue for Autodesk in fiscal 2019
Autodesk (ADSK) reported strong revenue growth in fiscal 2019. Sales rose 25% year-over-year to a record $2.57 billion in fiscal 2019. Recurring revenue accounted for 95% of total sales last fiscal year.
The company also returned to positive free cash flow and earnings as it continued to expand the operating margin. A diverse portfolio of offerings was the key driver for Autodesk's growth. Autodesk's focus is on digitizing the company and providing customers with a better experience.
Autodesk is investing in automating the design process in manufacturing and has seen an increase in conversions across construction and manufacturing verticals. In the fourth quarter of 2019, Autodesk achieved 34% growth in annualized recurring revenue (or ARR), which is an important metric.
Article continues below advertisement
Billings over $1 billion in the fourth quarter
Autodesk's billings were over $1 billion for the first time in the fourth quarter. Demand for Autodesk's services remains robust, and AutoCAD expertise is one of the key skills required by the industry, which is an important factor that has driven subscriptions higher for Autodesk.
In the last quarter, Autodesk signed an agreement with Hyundai to leverage its expertise and create innovative designs. Autodesk's CEO stated, "Hyundai is very interested in utilizing our capabilities in general design and we look forward to partnering with them to drive innovation in the automotive space."