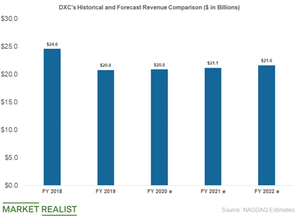 A Look at DXC's Key Financial Metrics
By Adam Rogers

Updated
DXC revenue to reach $21.6 billion in fiscal 2022
Wall Street expects DXC's (DXC) sales to rise from $20.75 billion in fiscal 2019 to $20.85 billion in fiscal 2020, $21.1 billion in fiscal 2021, and $21.6 billion in fiscal 2022. These rises indicate a potential CAGR (compound annual growth rate) of 1.4% over the next three years.
In comparison, Wall Street expects DXC's EPS to rise at a CAGR of 10.0% over the next five years. DXC is expected to improve its operating margin from 15.8% in fiscal 2019 to 16.9% in fiscal 2020, 17.7% in fiscal 2021, and 20.4% in fiscal 2022.
Article continues below advertisement
PE multiple
DXC has a forward PE multiple of 5.6x. If we look at the company's forward PE multiple, we can see that its stock is currently undervalued. DXC is trading at a five-year estimated PEG (PE-to-growth) multiple of 0.7x. A stock with a PEG multiple of below 1.0x is considered undervalued.
DXC also has a dividend yield of 1.6%, amounting to an annualized dividend payout of $0.84 per share. In fiscal 2019, DXC paid its shareholders $1.34 billion in share buybacks and $210 million in dividends. DXC has a cash balance of $2.9 billion.
Revenue estimates
In fiscal 2020, DXC expects sales of $20.7 billion–$21.2 billion with earnings of $7.75–$8.5. Sales in the midpoint range amount to $20.95 billion, higher than analysts' estimates.