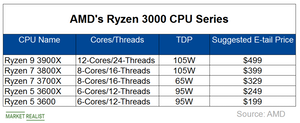 7 nm Ryzen CPUs Give AMD These Advantages over Intel
By Puja Tayal

May. 30 2019, Published 11:53 a.m. ET
Something about 7 nm
Advanced Micro Devices (AMD) is better than Intel (INTC) at creating hype even though the latter has a higher marketing budget. AMD has created a lot of buzz around its 7 nm (nanometer) products. Now it remains to be seen whether the company can live up to expectations.
The nanometer is the size of the transistors that go inside a chip. Smaller transistors lead to better performance and power efficiency. At Computex 2019, AMD unveiled its next-generation Ryzen 3000 series desktop CPUs built on the Zen 2 architecture. All Zen 2 products are built on TSMC's 7 nm node, which exposes AMD to the risk of dependence on a single supplier.
Article continues below advertisement
AMD's Ryzen 3000 series outperforms Intel's CPUs
In the Ryzen 3000 series, for the first time, AMD launched a new CPU, the Ryzen 9 3900X, priced at $499. AMD claims that the Ryzen 9 3900X delivers 14% better single-threaded performance and 6% better multi-threaded performance than Intel's 9920X at half the price. Other CPUs in the Ryzen 3000 series are two Ryzen 7 and two Ryzen 5 CPUs. Ryzen 7 CPUs outperform their Intel counterparts in terms of performance, power efficiency, and price. AMD will launch the Ryzen 3000 series on July 7.
There were rumors about AMD's excluding the high-end desktop CPU Threadripper from its third-generation Ryzen series. Responding to reporters after Computex, AMD's CEO, Lisa Su, denied the rumor and stated that AMD would launch the third-generation Threadripper in the near future, according to PC World.
Intel has unveiled its 10 nm Ice Lake notebook CPU, which is expected to launch by the end of the year. Intel claims that its Ice Lake CPU delivers better gaming performance than AMD's 12 nm Ryzen 7 3700U.
AMD's 7 nm EPYC Rome CPU
At Computex 2019, AMD also unveiled its second-generation EPYC Rome server CPU built on 7 nm Zen 2 architecture. AMD plans to launch the Rome CPU in the third quarter, whereas Intel's 10 nm server CPU won't launch before 2020.