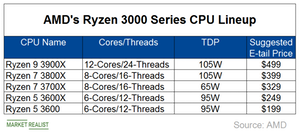 AMD's Ryzen 3000 Series Beats Intel CPUs in Price and Performance
Intel's Core i9 9900KS
Advanced Micro Devices (AMD) unveiled a new CPU (central processing unit), Ryzen 9, in its Ryzen 3000 series at the Computex 2019. The new Ryzen 9 3900X CPU competes and even beats Intel's (INTC) 12-core high-end desktop CPU Core i9 9920X in price and performance.
AMD's announcement comes after Intel unveiled its Special Edition Core i9 9900KS, with eight cores and 12 threads. The unique feature of Intel's new CPU is that it has an all-core turbo frequency of 5GHz (gigahertz), which is higher than Ryzen 9 3900X's 4.6 GHz. Intel did not reveal the price or launch date of Core i9 9900KS, but it's likely to be a premium product.
Article continues below advertisement
AMD's Ryzen 7 3800X
AMD's Ryzen 3000 series also consists of two eight-core/16-threads Ryzen 7 CPUs, 3800X, and 3700X. AMD has improved the gaming performance in the 3800X as compared to its predecessor 2700X.
AMD claims that the 3800X CPU delivers 3% better single-threaded performance and 37% better-multithreaded performance than Intel's Core i7-9700K CPU. Both CPUs are priced at $399. AMD claims that the 3800X CPU delivers almost similar performance as Intel's higher-range Core i9-9900K CPU priced at $484.
AMD's Ryzen 7 3700X 
A more interesting product is the Ryzen 7 3700X, which delivers better performance at a lower cost. It outperforms Intel's Core i7-9700K's by 28% in multi-threaded tasks while consuming just 65 watts of power as against i7-9700K's 95 watts. Moreover, 3700X is priced at $329 as against i7-9700K, which is priced at $385.
Ryzen 7 3700X would likely bring volume sales to AMD.
Check out all the data we have added to our quote pages. Now you can get a valuation snapshot, earnings and revenue estimates, and historical data as well as dividend info. Take a look!