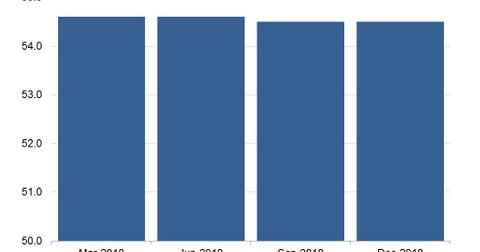 Why Sprint Views the T-Mobile Merger as Do-or-Die
By Ruchi Gupta

Apr. 22 2019, Published 8:13 a.m. ET
Sprint is struggling to invest in its network and service its debt
Sprint (S) has warned that its future is bleak if its deal to merge with T-Mobile (TMUS) fails. This month, Sprint opened up to the US regulators reviewing its merger deal with T-Mobile, exposing its vulnerability in the mature US wireless market, which is dominated by Verizon (VZ) and AT&T (T).
In its April 15 letter to the Federal Communications Commission, Sprint portrays the merger deal with T-Mobile as necessary for its survival. In the letter, Sprint explains that it's in a very difficult situation that's only getting worse. It has been losing customers, which has caused its revenue and cash flow to fall. As a result, its ability to service its debt and invest in improving its network has been hampered.
Article continues below advertisement
Sprint saw a loss of $141 million
Sprint was once the third-largest mobile operator in the United States in terms of subscribers. It lost that crown to T-Mobile a few years ago. On top of escalating competition from market leaders Verizon and AT&T, Sprint faces growing competitive threats from cable companies Comcast (CMCSA) and Charter Communications (CHTR), which have entered the wireless market in a business diversification push.
Comcast and Charter, faced with a shrinking pay-TV market, have ventured into the business of selling smartphone plans under the Xfinity Mobile and Spectrum brands, respectively. Altice USA (ATUS), another cable company, is gearing up to enter the wireless market this year, which will further increase competition for Sprint.
Sprint saw a loss of $141 million on revenue of $8.6 billion in the third quarter of fiscal 2019. The company closed the quarter with 54.5 million wireless subscribers. Sprint's customer base has been mostly stagnant in recent quarters.