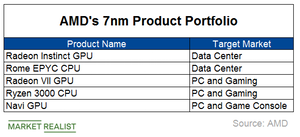 What Do 7nm Chips Mean to AMD Investors?
By Puja Tayal

Updated
Advanced Micro Devices and 7nm
The world's largest foundry TSMC (TSM) has reportedly received increasing orders from Advanced Micro Devices (AMD) for 7nm (nanometer) chips. The news sent Advanced Micro Devices stock up 8.5% on April 3. The 7nm products will likely give the company a technological edge over Intel (INTC), which is still stuck on the 14nm node.
Article continues below advertisement
7nm Rome
Advanced Micro Devices is set to launch its second-generation Rome EPYC server CPUs on TSMC's 7nm node in the second half of 2019. Advanced Micro Devices' first-generation Naples server CPU helped it increase its server CPU market share from less than 1% to 3.2% in 2018. The company expects its Rome CPU to increase its market share to 10% by 2020.
The overall server CPU market is worth $18 billion. If Advanced Micro Devices gains a 10% share, it will translate into $1.8 billion in revenues, which marks more than 20% growth for the chip supplier with annual revenues of $6.5 billion.
7nm Ryzen
Apart from 7nm Rome, Advanced Micro Devices is also launching the third-generation Ryzen 3000 PC CPUs on TSMC's 7nm node. These CPUs are expected to overtake Intel's CPUs on the performance front with the help of up to a 25% increase in clock speed offered by the 7nm node.
Recently, Advanced Micro Devices launched its second-generation Ryzen Pro mobile processors built on Global Foundries' 12nm node. These CPUs come with integrated Radeon Vega GPUs. Advanced Micro Devices claims that its second-generation Ryzen 7 Pro is up to 14% faster than Intel Core i7 laptop CPU in media creation and day-to-day office tasks.
Until now, Advanced Micro Devices competed with Intel by offering higher performance at lower price points. Advanced Micro Devices couldn't beat Intel in terms of performance. The 7nm chip range will likely help Advanced Micro Devices deliver better CPU performance than Intel. Advanced Micro Devices would have the ability to charge a higher price for its CPUs, which would likely increase its margins. As a result, analysts are bullish on Advanced Micro Devices and bearish on Intel.