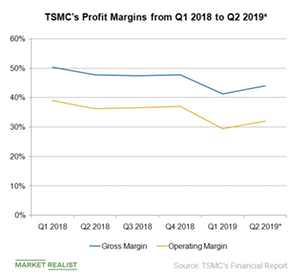 TSMC's First-Quarter Profit Margins Fall to Seven-Year Low
TSMC's profit margins
TSMC (TSM) is a third-party chip manufacturer and incurs a lot of fixed costs that go into maintaining its fabrications facilities, or fabs. Its profitability is determined by the fab utilization rate. The foundry is vulnerable to accidents and faulty supplies, which can cost it lost production time and capacity. TSMC's first-quarter profit margin took a bigger hit than revenue due to a factory contamination incident, which forced the foundry to scrap a large chunk of wafers produced.
Article continues below advertisement
In February, TSMC received a batch of contaminated photoresist from one of its chemical suppliers, which impacted the yield of the 12/16nm (nanometer) wafers at Fab 14B. The foundry scrapped a large number of wafers produced with the contaminated chemical and shifted production of these wafers to the next quarter.
First-quarter gross margin
The first quarter of the calendar year is seasonally weak for TSMC, as the end of seasonal demand in smartphones and consumer electronics reduces orders for the foundry. However, TSMC's first-quarter 2019 gross margin fell 640 basis points sequentially to 41.3%, a level last seen in the third quarter of 2011. The greater-than-normal sequential decline came as lower utilization of 7-nm capacity due to smartphone demand weakness reduced gross margin by around 400 basis points and the contaminated chemical incident reduced gross margin by around 260 basis points.
Gross margin guidance
TSMC expects gross margin to improve by 270 basis points to 44% in the second quarter. Of the 270-basis-point improvement, a 150 basis-point increase will come as the company will reproduce wafers that were scrapped in the first quarter due to the contaminated chemical, and more than a 100 basis-point increase will come from a slight improvement in the capacity utilization of 7-nm and other nodes.
Despite the weak gross margin in the first half, TSMC maintains its full-year 2019 gross margin guidance at 50% on the back of the strong utilization rate of its 7-nm node in the second half. TSMC will build Apple's (AAPL) A-series processors for iPhones, Qualcomm's (QCOM) 5G (fifth generation) chips, and Advanced Micro Devices' (AMD) complete PC and server CPU (central processing unit) and GPU (graphics processing unit) range on its 7-nm node.
Check out all the data we have added to our quote pages. Now you can get a valuation snapshot, earnings and revenue estimates, and historical data as well as dividend info. Take a look!