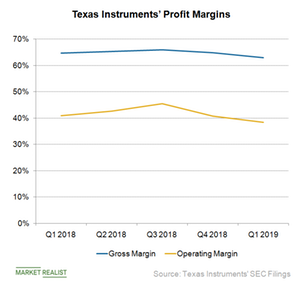 Texas Instruments' Profit Margins Continue to Beat Peers
Texas Instruments' profit margins
Texas Instruments (TXN) manufactures analog chips that are built on old technology nodes that have already been paid off. As they don't need to invest in advanced nodes, analog chipmakers enjoy higher profit margins and cash flows than specialized chipmakers like Intel (INTC). So TXN enjoys an ROI of over 39%, compared to Intel's ROI of over 21%.
However, analog chip makers are prone to manufacturing risks—such as underutilized capacity, high inventory, and faulty supplies.
Article continues below advertisement
Gross margin
The first quarter of a year is seasonally weak for TXN as seasonal smartphone sales fade and lower revenue. Lower revenue also reduces the company's gross margin as factory utilization reduces, whereas the factory overhead cost remains unchanged. In the first quarter of 2019, TXN's gross margin fell by 180 basis points sequentially to a two-year low of 62.95% as demand weakness across the semiconductor market reduced its factory utilization rate.
TXN's previous quarter gross margin of 64.8% is higher than Intel's 61.7% but lower than its peers Analog Devices (ADI) and Maxim Integrated's (MXIM) margins of 67.5% and 65.9%. TXN's falling margin shows that ADI and MXIM will also likely report margin declines in their first-quarter earnings.
Operating margin
TXN's first-quarter operating margin fell by 250 basis points YoY (year-over-year) to 38.4%, a level last seen in the first quarter of 2017. The company's operating margin fell more than gross margin as revenue fell faster than operating expenses. Revenue fell 5.3% YoY, whereas operating expenses fell 1.1% YoY, so operating profit fell 11% YoY.
TXN maintained its operating margin above 40%, which is higher than Intel's margin of 35% and even higher than ADI's and MXIM's margins of 29.6% and 33.2%. TXN's higher margin is the result of its differentiated positions in various end markets. It has significant exposure to the automotive and industrial spaces.
EPS
Lower profit margins reduced TXN's EPS by 6.7% YoY to $1.26 in the first quarter of 2019. The company expects this demand weakness to hit its next few quarters' earnings. It expects its second-quarter EPS to fall to $1.22.
Check out all the data we've added to our quote pages. Now you can get a valuation snapshot, earnings and revenue estimates, and historical data as well as dividend info. Take a look!