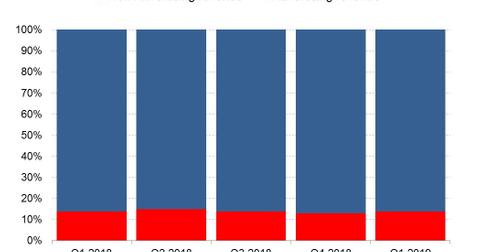 Is Twitter's Business Diversification Stalling?
By Neha Gupta

Updated
Digital ad-funded companies are no longer at ease
Twitter (TWTR) and peers such as Facebook (FB) and Google (GOOGL) that derive the vast majority of their revenue from advertising are feeling a little nervous these days. Amazon (AMZN) has emerged as a powerful force in the digital advertising space, taking market share from incumbents Facebook and Google while making it much harder for the likes of Twitter to expand. According to eMarketer estimates, Amazon captured 6.8% of the digital advertising market in the United States in 2018 and is on track to capture 8.8% of the market in 2019. Google is expected to record a drop in market share, whereas Facebook's market share is expected to remain mostly stagnant.
Article continues below advertisement
And Amazon is not the only disruptive force that Twitter, Facebook, and Google have to contend with. Verizon (VZ) and AT&T (T) have also stepped up their push for digital advertising dollars. AT&T is expected to launch a new subscription video service in the coming months that will include an ad-supported plan.
TweetDeck monetization talk fizzles
Amid the tightening race for digital advertising dollars, ad-funded companies have been looking to diversify. Google, for instance, has ventured into providing cloud services and selling a range of hardware products. Facebook is also into the hardware business through its Oculus unit. Twitter makes money outside the advertising market by licensing its data to other companies.
But Twitter's business diversification efforts appear to be stalling. First, the company has been unable to generate more than 15% of its total revenue from its non-advertising operations in recent quarters. Second, Twitter no longer talks about monetizing its dashboard product known as TweetDeck through paid subscriptions, as it had hinted in the past.