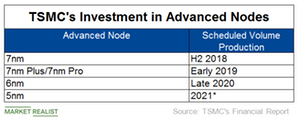 How Will Investment in Advanced Nodes Help TSMC?
TSMC invests in advanced nodes
TSMC (TSM) is investing $8 billion in capital annually on advanced manufacturing nodes of 10-nm (nanometer) and smaller. This investment helped TSMC overtake Intel and Samsung and launch the industry's first 7-nm node in 2018. Apple (AAPL) was the first customer to use the 7-nm node, as it built its A-series chips for 2018 iPhone models on this node.
TSMC's technology lead helped it get several orders from Huawei, Advanced Micro Devices, and Qualcomm. The foundry's 7-nm utilization rate is low in the first half, but will likely climb substantially in the second half as demand for smartphones and HPC (high-performance computing) chips picks up.
Article continues below advertisement
7-nm Plus and 7-nm Pro
TSMC has moved to its 7-nm Plus node, which incorporates EUV (extreme ultraviolet) technology. It has already started volume production on 7-nm Plus and is expected to manufacture Huawei's new generation Kirin 985 mobile processor on this node. The foundry is expected to use an enhanced version of 7nm+ called 7nm Pro for Apple's A13 mobile processors to be used in 2019 iPhone models. The foundry expects the combined revenue of all 7-nm processes to account for more than 25% of its 2019 revenue.
6-nm
TSMC is also developing its 6-nm process node, which it claims is 18% denser than 7-nm and fully compatible with 7-nm technology, allowing customers to easily migrate from 7-nm to 6-nm. The foundry is scheduled to begin risk production of 6-nm chips in the first quarter of 2020 and start volume production by the end of 2020.
5-nm
TSMC has started development of the 5nm node, which it expects to be a large node that lasts longer. The foundry expects 5-nm to be 1.8x denser and 15% faster than 7nm. It expects customer tape-outs on 5-nm to start in the second quarter of 2019 and volume production to begin in the first half of 2020. It expects the 5-nm technology ramp to be slower than that of 7-nm.
Check out all the data we have added to our quote pages. Now you can get a valuation snapshot, earnings and revenue estimates, and historical data as well as dividend info. Take a look!