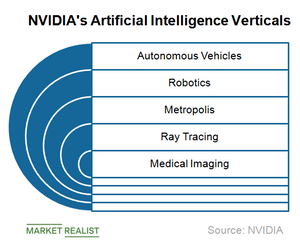 How NVIDIA Selects AI Verticals to Pursue
NVIDIA's strategy behind investing in new verticals
NVIDIA (NVDA) offers the most advanced GPU (graphics processing unit) technology in all its core verticals of gaming, professional visualization, data center, and automotive. It's leveraging its technology advantage and charging a higher price for its GPUs, which is increasing its profits faster than revenue.
Article continues below advertisement
NVIDIA's AI verticals
NVIDIA is exploring various verticals where AI (artificial intelligence) can make a difference. This exploration work requires a lot of investment. Thus, NVIDIA has been very strategic and methodical in selecting its AI verticals. At the 2019 Investor Day, NVIDIA's CEO Jensen Huang stated that it is focusing on verticals that are large enough to sustain huge investment towards exploring AI opportunities and deliver strong returns for the longer term. Stronger returns will encourage innovation.
Automotive
One of the biggest AI verticals is autonomous vehicles. NVIDIA calls it "a data center on wheels," given the amount of computing that goes into making a vehicle drive by itself without human intervention. This segment presents various opportunities in cars, trucks, mobility services, and industrial vehicles like forklifts and delivery bots. NVIDIA has been working on the DRIVE platform for a few years and has partnered with auto giants like Toyota and Volvo for the same.
Article continues below advertisement
Robotics
NVIDIA is investing in robotics where a virtual simulation environment is created to train a robot on a particular task. NVIDIA has developed the Issac platform, which will give way to the future of autonomous machines as it will allow the majority of industries to train robots to perform certain tasks.
Metropolis
NVIDIA is also tapping the smart city vertical, which could bring opportunities in law enforcement and traffic management, to name a few. NVIDIA's Metropolis platform uses sensors, edge computing platform Jetson Nano, and the cloud. NVIDIA has collaborated with Microsoft (MSFT) to connect its Jetson Nano to the Microsoft Azure IoT stack.
Ray Tracing and medical imaging
NVIDIA has recently tapped the ray tracing vertical, which will accelerate rendering used in movies, games, and much more. Amazon Web Services (AMZN) is using NVIDIA's RTX solutions for its graphics workload. NVIDIA's CLARA platform is using AI for medical imaging to make images more clear and improve medical diagnoses.
Check out all the data we have added to our quote pages. Now you can get a valuation snapshot, earnings and revenue estimates, and historical data as well as dividend info. Take a look!