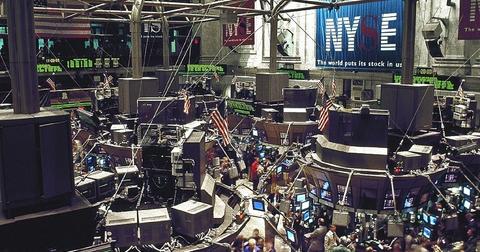 Dow Closes in the Red due to Plunge in Boeing Stock
By Anirudha Bhagat

Apr. 9 2019, Published 7:05 a.m. ET
Dow underperforms other US indexes
The Dow Jones fell during yesterday's trade while other US indexes moved up. The index fell 84 points, or 0.3%, yesterday, while the NASDAQ Composite and the S&P 500 indexes registered gains of 0.2% and 0.1%, respectively.
Article continues below advertisement
The Dow's underperformance was mainly due to the plunge in its highest weighted stock, Boeing (BA). The industrial conglomerate (XLI) plunged 4.4% yesterday. The fall dragged the Dow Jones down by 121 points, which means the index would have closed 37 points higher without Boeing. At 9.6%, Boeing has the highest weight in the 30-stock index.
Why did Boeing stock plunge?
Boeing's announcement of a production cut for its fast-selling 737 Max series planes and a rating downgrade by Bank of America (BAC) spread negative sentiment among investors. On April 5, the company announced lowering its monthly output of 737 Max planes by 19% to 42 units from 52 units, which would allow Boeing to free up its resources to focus on fixing the anti-stall software problem that led to two deadly crashes of its plane in less than five months.
The reduction in output of 737 Max series jets implies that the company is going to miss its commercial jet deliveries target. During its fourth-quarter 2018 earnings results, Boeing had aimed for 895–905 aircraft this year.
The production cut announcement also weighs on Boeing's suppliers (XLI). Spirit AeroSystems (SPR) and Triumph Group (TGI) lost 5.1% and 6.2% of their respective market values yesterday. Spirit AeroSystems and Triumph provide aerostructure design and components to Boeing.
Furthermore, investors also turned cautious on the stock after Bank of America analyst Ronald Epstein downgraded his rating on Boeing to "neutral" from "buy." The analyst said disruptions in 737 Max deliveries would last longer than anticipated earlier, which would have a significant impact on its financials.