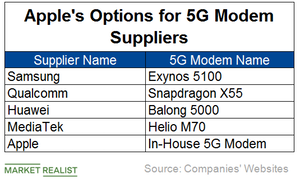 5G Technology: The Main Driver of Qualcomm and Apple's Settlement
The need for 5G forced Apple to settle 
Apple (AAPL) is the second-largest handset maker in the world after Samsung (SSNLF), and it earns more than 60% of its revenue from iPhones. In the fourth quarter of fiscal 2018, Apple reported its first YoY (year-over-year) fall of 15% in iPhone revenue due to weak demand from China.
The smartphone market has started to decline, and the next big growth cycle will likely come from the 5G rollout.
Article continues below advertisement
5G is a wireless communication technology that's 100 times faster than 4G technology and can connect multiple devices to the Internet simultaneously. Apple's strategy has been to adopt new technologies after they are widely accessible. For example, 4G phones arrived in 2011, but Apple introduced 4G phones in 2012.
Apple plans to introduce 5G iPhones in 2020, when 5G networks have become widely accessible. It has relied solely on Intel (INTC) for its 5G modems. However, Intel has delayed its 5G modem to the second half of 2019, jeopardizing Apple's plan to launch 5G iPhones in 2020. The fear of being left behind in the technology race has forced Apple to search for alternatives.
Apple's 5G options
Among the options available to Apple are going with Samsung, Huawei, or MediaTek, waiting for Intel, or developing its own 5G modem. MediaTek's chips are mostly used in mid- to low-end phones and aren't fit for premium smartphones such as Apple's iPhones. China's Huawei was willing to supply its 5G modems to the iPhone, but its chips are banned in the United States due to political and security concerns.
Apple has started work on its own modem chip, but it will take several years to develop. Samsung has made its 5G modem chips available to others on a small scale, but even if Samsung increases its capacity, it can't cater to Apple's volume requirements for a 2020 iPhone launch.
Apple is left with only one option: Qualcomm (QCOM). Qualcomm has already launched its first-generation 5G modem. Moreover, it has proven to be a reliable supplier to Apple in the last few years. Desperate times call for desperate measures, so Apple has left the disputes behind and signed a six-year licensing agreement and a multiyear supply agreement with Qualcomm, indicating that Qualcomm's 5G modems could appear in 2020 iPhones.