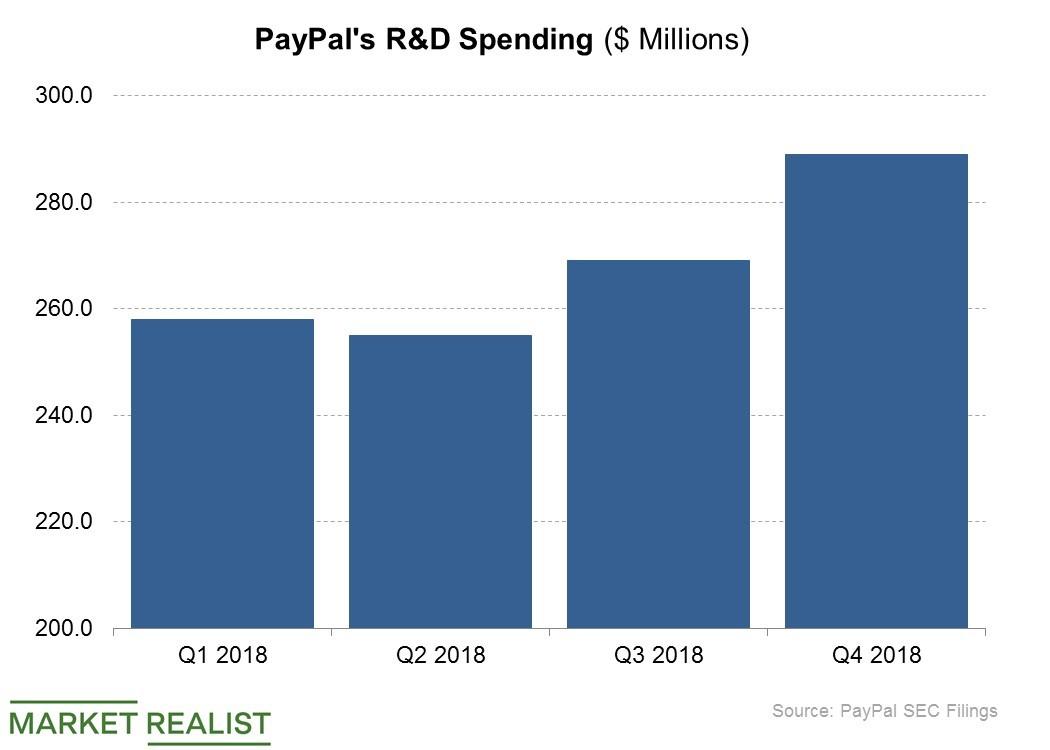 Will PayPal Boost Its R&D Allocation to Counter the Competition?
By Neha Gupta

Mar. 14 2019, Published 3:25 p.m. ET
PayPal faces escalating competition
In the past year, we've seen PayPal (PYPL) make a series of strategic acquisitions in apparent attempts to sharpen its competitive edge amid escalating competition in the digital payments space. With eBay (EBAY) dropping PayPal as its primary payment processor, Square (SQ) expanding into consumer lending, and Amazon (AMZN) exploring a broader rollout of its Amazon Pay service, PayPal remains under intense competitive pressure and may need to find new ways to counter the threats.
Innovation has always been a viable path for savvy companies to counter competitive threats and create new revenue sources to drive growth. Therefore, innovation is an area in which PayPal may want to invest significantly as it works to repel the competition.
Article continues below advertisement
Leaning on innovation to counter competition
In the fourth quarter, PayPal spent $289 million on product R&D (research and development). The amount represented 6.8% of PayPal's total revenue in the quarter. 
But PayPal's fellow market leaders, which are also facing growing competitive threats, are spending far more on R&D projects. Baidu (BIDU), for instance, spends ~15% of its revenue on R&D. Baidu is under pressure to preserve its position as China's top Internet search engine provider.
In the fourth quarter, Alphabet (GOOGL) and Facebook (FB) spent 15% and 20% of their revenues, respectively, on R&D projects. Alphabet's Google and Facebook are under pressure to defend their dominance in the digital advertising market.
PayPal is expected to report its first-quarter earnings results next month. We'll have to wait and see how the company's response to its growing competition may be affecting its R&D budget allocation.