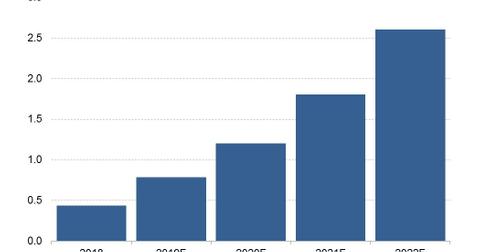 What's in the Augmented Reality Advertising Market for Snap?
By Neha Gupta

Updated
Brands are embracing AR advertising
Snap (SNAP) has been providing AR (augmented reality) advertising on its Snapchat app for some time. At an investor briefing last month following the release of its fourth-quarter results, Snap shared a case study in which global sports footwear maker New Balance saw a huge boost to its brand favorability after running AR-based campaigns in Snapchat.
Facebook (FB) has also been experimenting with AR advertising for some time.
Article continues below advertisement
According to Snap, its AR advertising format is delivering strong results for brands. Snap wants to build on this strength going forward, and there's no shortage of growth opportunity in this space. According to eMarketer estimates, brands are steadily embracing AR advertising, so the market is swelling. Global spending on AR advertisements was estimated to be $428.3 million in 2018, and it's projected to surpass $2.6 billion by 2022.
Shift to self-serve ad selling boosts advertiser gains
In 2019 and beyond, Snap wants to improve its ad formats to deepen its relationship with existing partners and attract new ones. The company says its shift to a self-serve ad-selling process has helped it attract more advertisers to its platform. Snap, Twitter (TWTR), and Google (GOOGL) currently don't disclose the number of advertisers they serve, but Facebook (FB) has said it serves more than 7.0 million advertisers across its range of services. Yelp (YELP) and Baidu (BIDU) had 191,000 and 529,000 active advertisers on their platforms at the end of the fourth quarter.