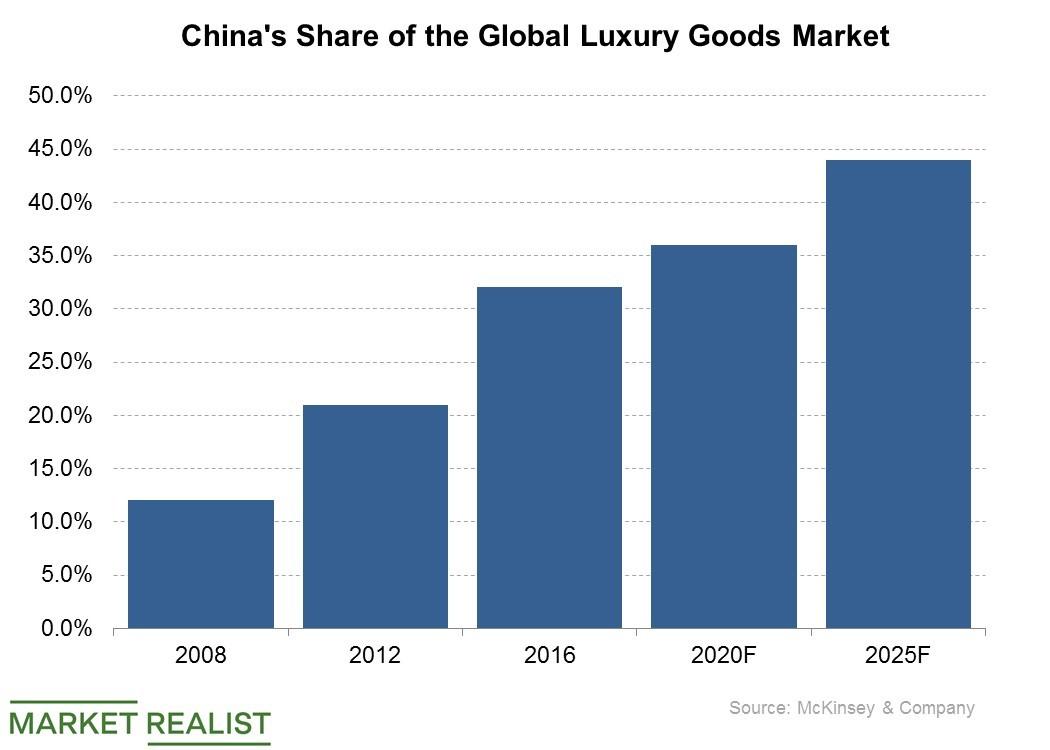 What's at Stake as JD and Farfetch Merge Operations?
A $150 billion opportunity in China's luxury goods market
JD.com (JD) has teamed up with Farfetch (FTCH) to help sell luxury brands in China, giving JD customers access to over 3,000 luxury brands. A few years ago, JD launched a luxury-focused marketplace, Toplife. This business is set to be merged into Farfetch's China operations as the companies expand their collaboration to better capitalize on China's booming luxury goods market.
China's swelling middle-class population is fueling strong demand for luxury goods. Chinese consumers spent ~$70 billion on luxury goods in 2016 and accounted for 32% of the world's luxury goods market, according to McKinsey & Company estimates. Spending on luxury goods by Chinese consumers is forecast to hit ~$150 billion by 2025, with China accounting for 44% of the world's luxury goods market.
Article continues below advertisement
JD and Alibaba turn to strategic partnerships
JD's expanded collaboration with Farfetch is likely to stir up more competition between JD and Alibaba (BABA), as the companies have taken to partnering with international brands to capitalize on Chinese consumers' growing demand for high-quality Western brands. In 2017, Alibaba partnered with Swiss luxury goods group Richemont in an effort to broaden the choice of luxury brands for its Chinese consumers. Last year, Alibaba partnered with American supermarket chain Kroger (KR) for the sale of certain grocery brands in China.
JD has partnered with Western companies such as Walmart (WMT) and Google (GOOGL) to support its fight against Alibaba in and outside China. Google is helping to support JD's international expansion.