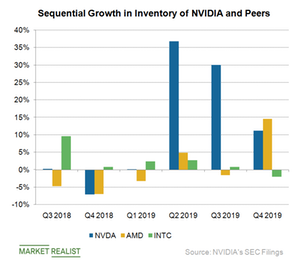 What Investors Should Know about NVIDIA's Cash Flow and Inventory
NVIDIA's cash flow
Previously, we saw that NVIDIA's (NVDA) profit fell faster than its revenue as its operating expenses rose. Despite its profit falling, NVIDIA's operating cash flow rose 84% sequentially to $898 million as it received pending payments from the previous quarter.
NVIDIA's accounts receivable fell by $795 million to $1.4 billion in fiscal 2019's fourth quarter. It used some of these payments to reduce its accounts payable by $391 million to $511 million. In fiscal 2019, NVIDIA's operating cash flow rose 7% year-over-year to $3.74 billion, of which $600 million went toward capital spending, resulting in free cash flow of $3.14 billion.
Article continues below advertisement
NVIDIA's stock buybacks
As stock prices and earnings fall, most companies have increased their stock buybacks to improve their EPS. In fiscal 2019, NVIDIA repurchased $1.58 billion in stock, and it plans to repurchase another $2.5 billion in fiscal 2020.
With NVIDIA stock trading close to its 52-week low, the company could buy back more stock and improve its EPS. This buyback is part of the $7 billion stock buyback authorized by NVIDIA management. Micron Technology (MU) and Qualcomm (QCOM) have also resorted to huge buybacks to improve their EPS amid declining profits.
NVIDIA's inventory
NVIDIA's most interesting balance sheet item was its inventory. Normally, its inventory increases in the second and third quarters and reduces in the fourth quarter. In fiscal 2019's second and third quarters, NVIDIA increased its inventory by more than 30% sequentially in anticipation of strong holiday season sales. However, weaker-than-expected demand left its accumulated inventory of DRAM (dynamic random access memory) and other components unused, increasing its inventory 11% sequentially to $1.58 billion in fiscal 2019's fourth quarter. The company stated that its inventory primarily comprises its Turing, Volta, and DGX products.
In the fourth quarter, Advanced Micro Devices' (AMD) inventory rose 14.5% sequentially to $845 million. NVIDIA and AMD expect to absorb their excess inventory in the first half of this year.
Check out all the data we have added to our quote pages. Now you can get a valuation snapshot, earnings and revenue estimates, and historical data as well as dividend info. Take a look!