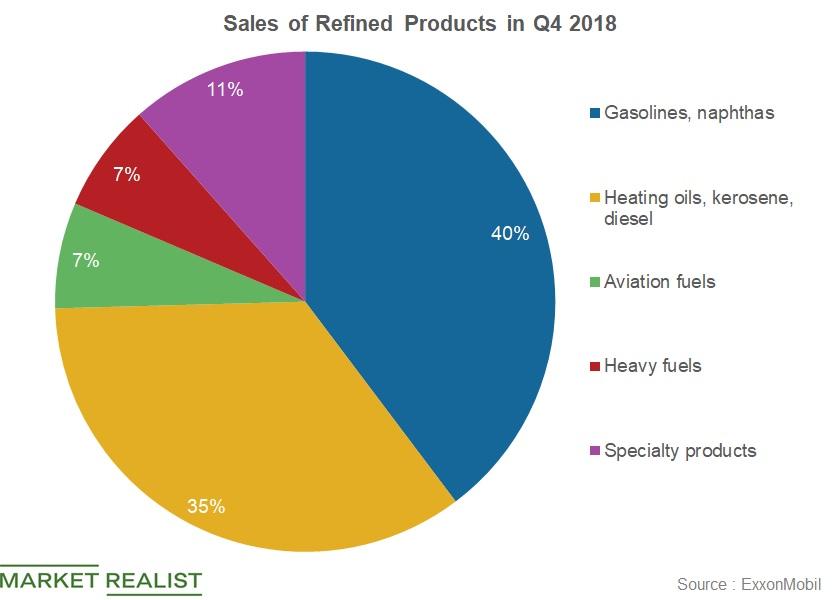 How's ExxonMobil's Downstream Segment Positioned?
ExxonMobil's downstream performance
ExxonMobil's (XOM) downstream segment is a savior for the company due to lower oil prices. The company focuses on expanding the segment to strengthen its integrated model. Before reviewing ExxonMobil's ongoing downstream projects, we'll discuss the company's refined product sales in the fourth quarter.
In the fourth quarter, ExxonMobil's (XOM) refined products sales fell 2.3% YoY (year-over-year) to 5.5 MMbpd (million barrels per day). Gasoline sales fell 7.2% YoY, while aviation fuels fell 4.3%. However, the fall was partially offset by a 2.0% YoY rise in heating oils, kerosene, and diesel sales.
Usually, everything else being equal, lighter refined products like gasoline yield more revenues than the heavier ones. Higher gasoline sales are better for the company. In the fourth quarter, ExxonMobil sold 2.2 MMbpd of gasoline and naphtha—40% of its total refined products.
Article continues below advertisement
Article continues below advertisement
ExxonMobil's downstream projects
ExxonMobil has six key refining projects that are expected to improve the segment's returns. The Antwerp coker, Beaumont Hydrofiner, and Rotterdam Hydrocracker came online in 2018. The Antwerp Coker is expected to increase the production of high-value distillates and marine gas oil before the IMO 2020 (International Maritime Organization), which will cap the sulfur content in marine fuels. The Beaumont Hydrofiner will use the company's proprietary catalyst to produce high-value and ultra-low sulfur fuels. The Rotterdam advanced hydrocracker project is a proprietary technology enabled project that's expected to double the earnings from the site.
Other projects include the Singapore resid upgrade, the Beaumont light crude expansion, and the Fawley hydrofiner. These projects are meant to increase feedstock flexibility and produce higher value and lighter refined products.
ExxonMobil's technological advantage and focus on higher value refined products are expected to create a strong downstream portfolio that's capable of generating more than 20% returns from the segment.