How Viacom and CBS Could Benefit from Potential Merger
Media players Viacom (VIAB) and CBS (CBS) are again talking about a merger.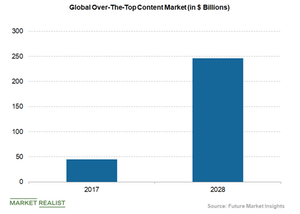 Viacom and CBS plan to merge
Media players Viacom (VIAB) and CBS (CBS) are again talking about a merger, as they have resolved the carriage fee dispute between Viacom and telecom giant AT&T (T). The companies' boards are reportedly in talks to discuss the much-awaited potential merger. However, the pricing terms and the leadership of the combined firm remain the sticking points.
Article continues below advertisement
Article continues below advertisement
Benefits from the merger
According to BTIG analyst Richard Greenfield, the consolidation of CBS and Viacom would lead to cost savings of around $1 billion in 2020. Further, by pooling resources, CBS and Viacom would likely be able to renew agreements with cable, satellite, and telecom companies to carry their programs. The merged companies could also better withstand competition from the streaming disruption by companies such as Netflix (NFLX), Amazon (AMZN), and Alphabet's (GOOGL) Google through its YouTube division. The growing popularity of over-the-top (or OTT) services has attracted many players in the space, and therefore, the global OTT content market is expected to reach $245.8 billion by 2028, according to a report by research firm Future Market Insights.
The amalgamation of Viacom and CBS is essential at a time when media companies are joining forces to combat competition with bigger giants. Meanwhile, Walt Disney (DIS) has also recently closed its long-awaited acquisition of most of the assets of media giant 21st Century Fox (or 21CF) amid plans to strengthen its streaming offerings and boost its portfolio with premium content. Meanwhile, 21CF spun off the remaining assets not acquired by Disney into a new entity called Fox Corporation (FOXA). In October, Comcast (CMCSA) also won the bidding round for a 61% stake in UK-based Sky.