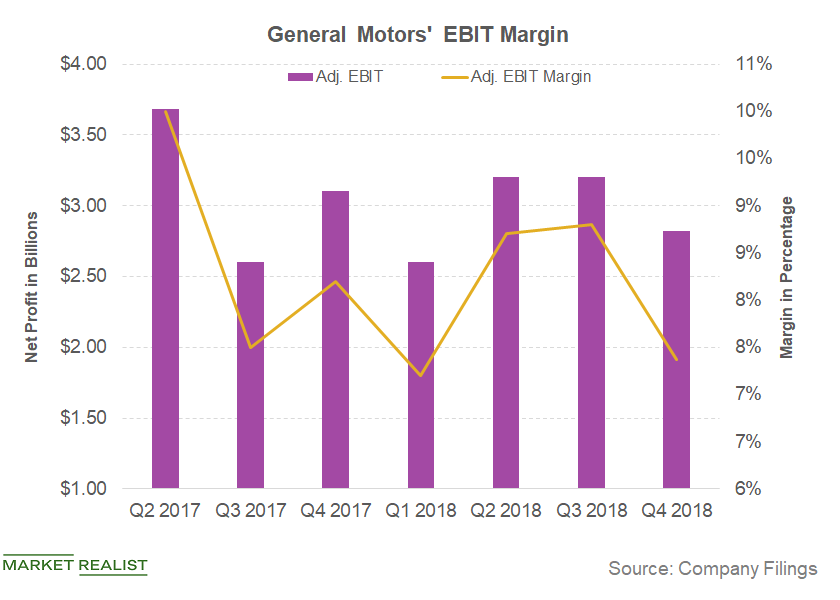 Can General Motors Improve Its Profit Margins in 2019?
General Motors' focus on profitability
In 2018, a positive mix helped General Motors (GM) boost its revenue despite its declining sales volumes. GM was one of the first automakers to increase its focus on profitable business segments and geographical segments. At the same time, the company closed its operations in loss-making or highly competitive geographical markets (IYK), including India and Europe.
In 2017, General Motors sold its European brands Opel and Vauxhall to Groupe PSA.
Article continues below advertisement
GM's profit margins
In the fourth quarter of 2018, General Motors reported a gross profit of $6.53 billion, down ~18.4% YoY (year-over-year). With this, the company's gross profit margin stood at 17.0% compared to 21.2% a year earlier. In the fourth quarter last year, GM's adjusted EBITDA fell to $2.94 billion compared to $4.15 billion in the fourth quarter of 2017. The company's adjusted EBITDA margin in the last quarter fell to 7.7% compared to 11.0% in the fourth quarter of 2017.
Similarly, General Motors' adjusted net profit margin contracted to 5.3% in the quarter from 6.3% in the fourth quarter of 2017. In 2018, the company reported an adjusted net profit margin of 6.4% compared to 6.8% in 2017.
In 2018, Ford Motor Company (F) and Fiat Chrysler Automobiles (FCAU) reported adjusted net profit margins of 3.5% and 4.4%, respectively.
Could margins improve in 2019?
In 2018, GM's profitability was affected by a negative mix and increased commodity costs. However, in the fourth quarter, the company's product mix had a positive impact on its profit margins. In the last couple of quarters, General Motors has made some new additions to its light-duty pickup truck and crossover line-up, which could help it improve its profit margins in the coming few quarters.
On the negative side of the equation, rising commodity costs, falling Chinese market equity income, and foreign exchange headwinds could remain a challenge for the company.
In the next article, we'll discuss whether or not General Motors could be a good potential buy at the moment.