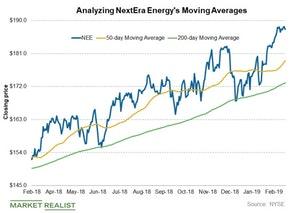 Analyzing NextEra Energy's Chart Indicators
By Vineet Kulkarni

Mar. 12 2019, Published 1:44 p.m. ET
Chart indicators
Let's take a look at where the stocks of the top-performing utilities of the last five years could go in the short term. NextEra Energy (NEE) stock hit a fresh 52-week high on March 11. It was trading at $189.5, nearly 5% and 9% above its 50-day and 200-day moving averages, respectively.
The stock's strength is underscored by its large premium to both its support levels. The moving average levels of close to $179.8 and $173.3 could act as crucial supports for NEE in the short term. NEE's 200-day moving average level has acted as a support, and it has bounced back from that level a couple of times in the last year.
Article continues below advertisement
Relative strength index
NextEra Energy stock is trading in the overbought zone with an RSI (relative strength index) of 75. Almost all the top utility stocks (XLU) are overbought at the moment. CMS Energy (CMS) and NiSource (NI) have RSIs of ~80, implying that they are trading in the overbought zone.
RSI takes up values from 0 to 100. Values of above 70 indicate that a stock is overbought, while values of below 30 indicate that a stock is oversold. An RSI at either extreme suggests an imminent reversal in a stock's direction.
CMS Energy stock is trading 6% above its 50-day moving average and 11% above its 200-day moving average. At the same time, NiSource is trading 5% and 6% above these same support levels, respectively.