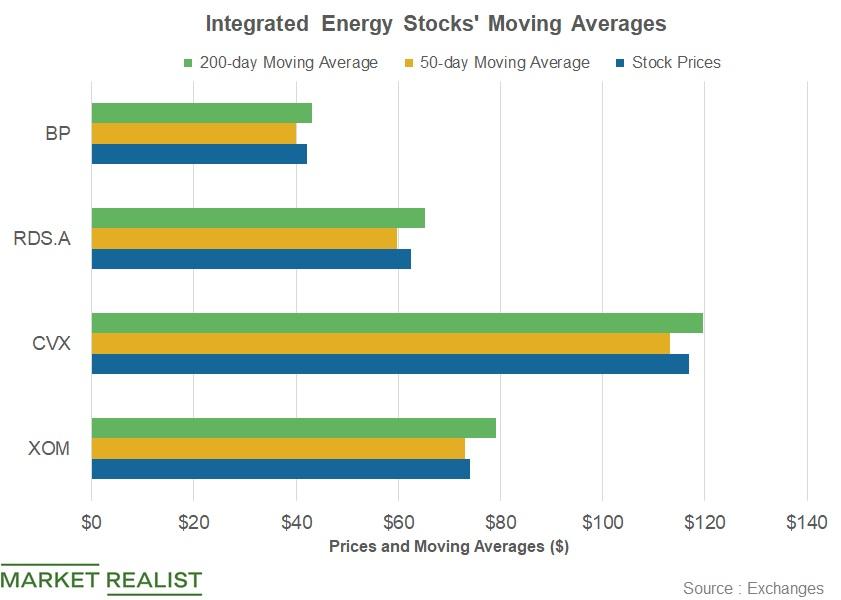 XOM, CVX, Shell, BP: What Do Moving Averages Suggest?
Integrated energy stocks rise in the first quarter
In the first quarter so far, integrated energy stocks ExxonMobil (XOM), Chevron (CVX), Royal Dutch Shell (RDS.A), and BP (BP) have risen due to the rise in oil prices as we discussed earlier in the series.
The recent fourth-quarter earnings also impacted integrated energy stocks. All four of these stocks surpassed Wall Street analysts' earnings estimates. For more on this, read the post-earnings roundup of these stocks, XOM, CVX, RDS.A, and BP: Beats and Misses in Q4.
Article continues below advertisement
Moving average trends in the first quarter
ExxonMobil's 50-day moving average (or DMA) has fallen in the current quarter led by a decline in its stock price in the latter part of the fourth quarter. This fall resulted in the widening of the gap between ExxonMobil's 50 DMA and 200 DMA. ExxonMobil's 50 DMA, which stood 3.6% below its 200 DMA on January 1, now stands 7.6% below its 200 DMA.
Similarly, Chevron, Shell, and BP's 50 DMAs fell, expanding the gap between their DMAs. Shell saw the smallest widening of the gap. Shell's 50 DMA, which stood 8.1% below its 200 DMA on January 1, now stands 8.2% below its 200 DMA. Further, the gap between Chevron's 50 DMA and 200 DMA widened from 5.0% to 5.3%. Similarly, BP's gap expanded from 6.9% to 7.6%.
Overall
The wider the gap, the more difficult it is for these stocks' 50 DMAs to cross over their 200 DMAs (a favorable sign). Chevron's 50 DMA is the closest to its 200 DMA. Thus, if the stock rises, then it could push up its 50 DMA, which could then cross over its 200 DMA. The same holds for other stocks except they need a relatively steeper uprun to cross over.
Higher oil prices, a stronger market, better economic data, or a positive outcome from the US and China talks are some of the factors that could positively impact these stocks.
Move on to the next part to look at the price forecast for XOM, CVX, RDS.A, and BP until the end of the first quarter.