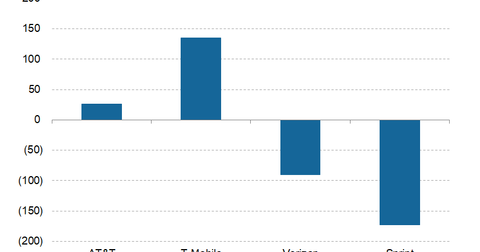 Why Is Verizon Losing Prepaid Customers?
By Ambrish Shah

Updated
Verizon's prepaid customer net additions
In this article, let's take a look at Verizon's (VZ) prepaid customer net addition trend. The company has been losing its prepaid customers over the past few quarters. In the fourth quarter, Verizon lost 90,000 prepaid subscribers compared to 184,000 net losses in the fourth quarter of 2017.
Verizon's management stated, "Our 4G smartphone prepaid base increased during the quarter and all of the decline in prepaid net additions was due to 3G and basic prepaid phones."
Article continues below advertisement
Peer comparison
Verizon's prepaid subscribers fell ~14.0% year-over-year to 4.6 million on December 31. In comparison, T-Mobile's (TMUS) prepaid customers grew ~2.3% YoY to 21.1 million, while Sprint's (S) prepaid customers fell ~1.7% YoY to 8.8 million. AT&T's (T) prepaid customers increased by ~10.9% YoY to 17.0 million by the end of December 31.
By comparison, in the fourth quarter, T-Mobile and AT&T had gained 135,000 and 26,000 net prepaid subscribers, respectively. Meanwhile, Sprint lost 173,000 prepaid customers in the same quarter.