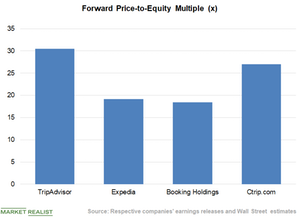 Why Does TripAdvisor Trade at a Premium Valuation to Peers?
By Anirudha Bhagat

Updated
Premium valuation
At current market prices, TripAdvisor's (TRIP) PE ratio stands at 39.7x, which is between its all-time high of 50.7x in July 2014 and its all-time low of 17.4x in October 2012. At the current PE multiples, the stock trades at a premium valuation to its peers. Booking Holdings (BKNG), Ctrip.com International (CTRP), and Expedia (EXPE) have PE multiples of 21.8x, 22.8x, and 23.6x, respectively.
Based on analysts' earnings expectations for the next 12 months, TripAdvisor's PE ratio is expected to be 30.5x. Booking Holdings, Ctrip.com International, and Expedia have forward PE multiples of 18.4x, 27.0x, and 19.2x, respectively.
TripAdvisor's premium valuation seems justified due to a healthy travel demand environment. Moreover, the online agency's earnings growth projection for 2018 is the highest in the space. Analysts' earnings growth projections for TripAdvisor, Expedia, Booking Holdings, and Ctrip.com International are ~69%, ~31%, 16.5%, and 11.6%, respectively.
EV-to-EBITDA multiple
The PE ratio is the most commonly used valuation multiple because of its simplicity, but it has some flaws. Earnings can be manipulated easily and the ratio can be distorted due to a company's leverage ratio, thereby making the multiple meaningless. Therefore, it's better to compare these companies based on their EV-to-EBITDA multiples.
Currently, TripAdvisor has an EV-to-EBITDA multiple of 26.4x, which is higher than Expedia and Booking Holdings' EV-to-EBITDA multiples of 12.5x and 16.0x, respectively. However, TripAdvisor's current EV-to-EBITDA multiple is much lower than Ctrip.com International's multiple of 41.9x.
Based on one-year EBITDA projections too, TripAdvisor currently trades at a premium to Expedia and Booking Holdings while at a discount to Ctrip.com International. TripAdvisor, Expedia, Booking Holdings, and Ctrip.com International's forward EV-to-EBITDA ratio is pegged at 16.2x, 9.4x, 14.4x, and 20.8x, respectively.
The SPDR S&P 500 ETF Trust (SPY), which tracks the returns of stocks included in the S&P 500 list, invests 0.03% of its holding in TripAdvisor stock.