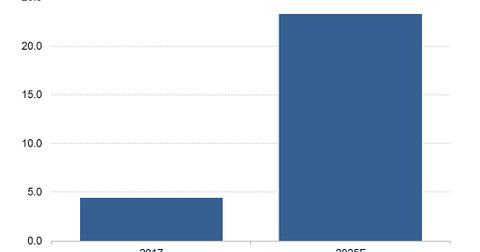 Where Eero Fits in Amazon's Growth Strategy
By Neha Gupta

Updated
Amazon buying home Wi-Fi router maker
Amazon (AMZN) is acquiring home Wi-Fi router maker Eero, the online retailer and cloud computing giant announced recently without disclosing the financial terms of the deal. According to Amazon, the reason it is acquiring Eero is to help customers better connect smart home devices. Amazon provides a range of smart home devices, mostly voice-enabled smart speakers that it sells under the Echo brand. Echo devices can be used to control lights and music in a home.
Article continues below advertisement
Eero competes with the likes of Google (GOOGL) and NetGear (NTGR) in the home router market. Revenue rose 30% YoY to $6.5 billion in the Google unit that houses the home router business in the December quarter. Revenue declined 27% YoY to $289 million at NetGear in the December quarter. Eero home Wi-Fi routers cost $199. In addition to selling devices, Eero provides a security service that costs $99 a year.
Amazon chasing $23.3 billion revenue opportunity
With Eero, Amazon is not only on track to expand its range of smart home devices but could make its Echo devices easier to set up in the home, which could in turn make Echo devices more appealing in the smart speaker market. Although Amazon pioneered the smart speaker device category, the company has been losing market share to competitors such as Alibaba (BABA) and Baidu (BIDU). According to estimates from Strategy Analytics, Amazon's share of the global smart speaker market dipped to 31.6% in the third quarter of 2018 from 64.8% a year earlier. In contrast, Alibaba's share of the market expanded to 9.5% from 1.6% a year earlier. Baidu captured 8.4% of the global smart speaker market in the third quarter of 2018. The company's share of the smart speaker market was negligible the year before.
The global smart speaker market is forecast to top $23.3 billion in revenue by 2025 from $4.4 billion in 2017, according to Allied Market Research estimates.