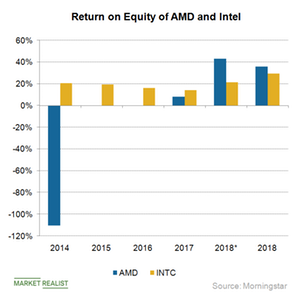 What Efficiency Ratios Say about AMD's Management
AMD's efficiency ratios
So far, we have seen that Advanced Micro Devices (AMD) improved its profits by increasing the mix of Ryzen, EPYC, and Radeon processors. In 2018, AMD increased its capital spending by 44% to $163 million and net income by 400% to $514 million, resulting in a stronger efficiency ratio. The company also improved its leverage ratio, thereby improving its ROI (return on investment). Efficiency ratios tell us about the management's ability to generate maximum returns from minimum investment.
Article continues below advertisement
Return on investment
At the end of 2018, AMD's ROI rose to 19.3% from 6.6% in 2017. This ROI was lower than the estimated 21.7%. The ROI was below the estimate as weakness in consumer GPU (graphics processing unit) reduced revenue growth while its high go-to-market cost for data center GPUs increased its operating expense.
Even though AMD increased its ROI, it is lower than Intel's (INTC) ROI of 21.3% as it enjoyed higher net income per share. However, the gap between the two company's ROI has narrowed. We cannot compare AMD's and NVIDIA's (NVDA) ROI, as the measure is influenced by a company's capital structure. AMD and Intel have higher leverage than NVIDIA. Thus, we'll look at the ROE (return on equity).
Return on equity
A company's ROE shows the profit a company can generate from shareholder capital in a particular time period. A company can improve its ROE by repurchasing shares or improving net income.
AMD doesn't undertake share buybacks, which means its ROE is largely driven by improving net income. AMD improved its ROE from 8.4% in 2017 to 35.9% in 2018, lower than the estimate of 43.3%. Rival Intel also improved its ROE for the first time in four years driven by strong growth for servers and business PCs, both of which command a higher price. It was this increase in ROE that got Bob Swan the position of permanent CEO of Intel.
Even though AMD's efficiency ratios fell short of expectations, they rose significantly given the current macroeconomic environment. Long-term investors look at the ROE of different companies and invest in those with the highest ROE and lowest price. However, risk-averse investors also look at the company's volatility, as highly volatile stocks are riskier and prone to market noise. We'll look at AMD's volatility next.
Check out all the data we have added to our quote pages. Now you can get a valuation snapshot, earnings and revenue estimates, and historical data as well as dividend info. Take a look!