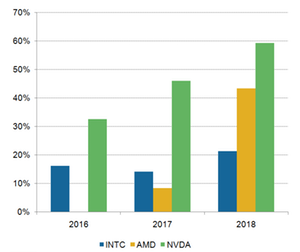 Intel's Efficiency Ratios in Krzanich's and Swan's Terms
By Puja Tayal

Updated
Intel's efficiency ratios
So far, we've learned that investors and analysts are skeptical about the appointment of Intel's (INTC) new CEO, Bob Swan, because of his lack of experience in technology and manufacturing. However, Intel's board chair, Andy Bryant, stated in the related press release that the board's decision was based on "the outstanding job Bob did as interim CEO for the past seven months."
The best way to gauge a company's management's performance is through efficiency ratios. These ratios show the income the management can generate with a minimum investment.
Article continues below advertisement
Intel's return on equity
A company's ROE (return on equity) shows the profit it can generate from shareholder capital in a particular period. A company can improve its ROE by repurchasing shares or improving its net income.
Brian Krzanich took Intel's CEO position in May 2013 and resigned in June 2018. In his five-year term as CEO, he undertook the company's transition from a PC-centric business to a data-centric business. However, during his term, Intel's ROE fell from 18.0% in 2013 to 14.2% in 2017.
Swan took on the interim CEO position in the second half of 2018, when Intel saw an unexpected surge in demand from the PC and data center markets. In 2018, Intel's ROE rose 710 basis points YoY (year-over-year) to 21.3%.
Peers' ROEs
A company's ROE shouldn't be considered in isolation. It is used to compare how efficiently a company's management delivers returns compared to its peers. Between 2013 and 2017, rival Advanced Micro Devices (AMD) improved its ROE from -15.0% to 8.4% under the leadership of Lisa Su, who joined AMD in 2014. NVIDIA (NVDA) improved its ROE from 9.5% to 46.0% as PC gaming and AI picked up. Last year was strong for all three companies as AMD and NVIDIA increased their ROEs to 43.3% and 59.3%, respectively.
While Intel's ROE improved under Swan's leadership, the real test will come in 2019, when the high demand for PCs and servers fades and the competition picks up. Investors should wait and watch to see whether the new CEO can maintain or improve Intel's ROE in these challenging times.