What Drove Clorox's Q2 Sales?
Clorox (CLX) posted net sales of $1.47 billion during the second quarter.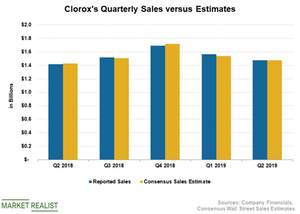 Sales were in line with estimates
Clorox (CLX) posted net sales of $1.47 billion during the second quarter, which was in line with analysts' estimate despite facing significant headwinds from adverse currency rates. Clorox's net sales increased ~4% on a YoY basis, as its Nutranext acquisition, higher pricing, and innovation-led products more than offset the negative impact of adverse currency rates. Nutranext contributed 4% to top-line growth, while currency volatility adversely affected sales by 3%.
Higher pricing also supported the top line of the company's peers including Procter & Gamble (PG), Kimberly-Clark (KMB), and Colgate-Palmolive (CL). However, currency volatility remained a drag.
Article continues below advertisement
Article continues below advertisement
Management expects the top line to grow by 2% to 4% in fiscal 2019 driven by innovation and acquisition. Innovation-led products are expected to add 3% to its top-line growth. Meanwhile, the Nutranext acquisition and divestiture of Aplicare are projected to contribute 3%. However, currency volatility is likely to hurt sales growth by 3%.
Clorox's segmental performance
Sales in the Cleaning segment, which includes the Laundry, Home Care, and Professional Products divisions, rose about 6%, reflecting growth across all businesses. Home Care sales grew sharply led by innovation-driven new products. Meanwhile, its Professional Products business saw broad-based gains and marked double-digit growth.
The Household segment (including Bags and Wraps, Charcoal, Cat Litter, Digestive Health) reported a 4% decline during the second quarter as heightened competitive activity and distribution losses in the Bags and Wraps business remained a drag. Also, a shift in timing of shipments affected Charcoal sales. Cat Litter marked double-digit sales growth driven by innovation.
The Lifestyle segment's (including Dressings and Sauces, Water Filtration, Natural Personal Care, Dietary Supplements) sales jumped 25% driven primarily by the Nutranext acquisition. Plus, growth across all businesses led by innovative products further supported the top-line growth.
International sales saw an 8% decline during the reported quarter as currency volatility negatively impacted sales by 16% and more than offset the benefits from higher pricing.