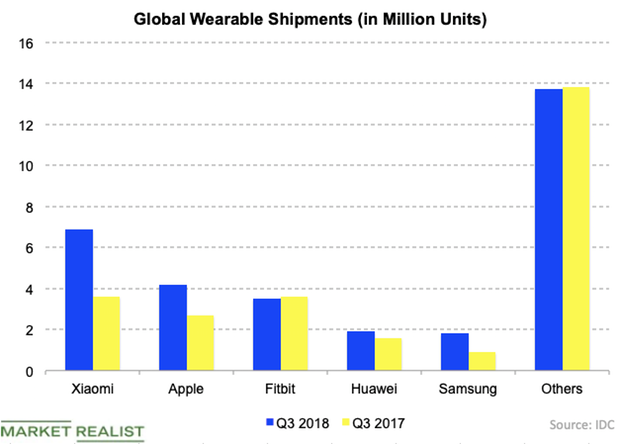 The US Smartwatch Adoption Rate Continues to Increase
By Sanmit Amin

Feb. 15 2019, Published 10:03 a.m. ET
Smartwatches have been a shining light in the wearables space
The wearables (WEAR) space has seen seeing lackluster growth for the last couple of years. However, one segment that's been doing well is smartwatches, which have increased in popularity.
Apple (AAPL) has been the clear leader in the smartwatch space. Fitbit (FIT), which was once the leading maker of fitness trackers, has had to pivot its strategy toward smartwatches and has seen some success.
The Apple Watch Series 3 saw success worldwide due to a new feature that allowed it to be untethered from the iPhone. In the Apple Watch 4, Apple added some medical features to the device's already existing features. These medical features include an electrocardiogram, which has already reportedly saved several lives by alerting users of unusual heart activity. Apple's constant innovation in smartwatches has helped it consolidate its first-place spot in the space.
Apple's revenue from its Wearables, Home, and Accessories segment, which includes revenue from smartwatches, surged 33.3% year-over-year to $7.3 billion in the first quarter of fiscal 2019, which ended in December 2018.
Article continues below advertisement
A total of 16% of Americans now own a smartwatch
According to new research by the NPD Group, 16% of US adults now own smartwatches compared to 12% in December 2017. Also, smartwatch shipments in the United States increased 61% in the 12 months that ended in November 2018 compared to the same period in 2017.
The research also noted that while smartwatches are currently popular among the younger demographic, that could change. There could be a higher adoption rate among the older population as smartwatch makers add more health-related features.