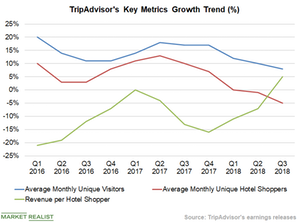 Marketing and Product Design to Drive TripAdvisor's User Base
By Anirudha Bhagat

Feb. 7 2019, Updated 4:15 p.m. ET
Marketing and mobile-centric product strategy
TripAdvisor's (TRIP) sustained focus on enhancing its mobile-centric product designs along with marketing initiatives will likely continue to attract new users and drive its overall user base. Under its mobile-centric product design, the company has developed application systems compatible with all major operating systems (IYW) including Google's (GOOGL) Android OS, Apple's (AAPL) iOS, and Microsoft's (MSFT) Window OS. Apart from this, its website and mobile applications provide information in 20 different languages, which has helped the company attract new visitors to its site.
Article continues below advertisement
Further, one of its important marketing strategies is to keep its site free to access and upload data on it. Therefore, many small, local, and regional travel agencies find it convenient and cost effective to post their content on the company's site, thereby helping TripAdvisor to enhance its clientele.
Additionally, since the second half of 2017, TripAdvisor has been rationalizing its marketing expenses. The company has been emphasizing TV advertising more and reducing online advertisements in areas where it isn't profitable.
Growing user base
TripAdvisor's product design and marketing initiatives have been attracting new users. The online travel agency's unique visitors are expected to continue improving as more users shift to booking travel online and on mobile devices.
In the first three quarters of 2018, TripAdvisor's unique visitors have grown at an average rate of 10%. In the third quarter of 2018, the company's monthly unique visitors rose 8% YoY to 490 million users. Moreover, user reviews on the company's website grew 23% YoY to 702 million in the quarter, helping TripAdvisor create brand awareness and drive users to its site.
Furthermore, the online travel agency reported YoY growth in revenue per shopper metric for the first time in the last 13 quarters. The parameter increased 5% YoY to $0.41 due to mobile device monetization.
Article continues below advertisement
During its third-quarter earnings release, TripAdvisor revealed that mobile devices drove 25% of the revenue per hotel shopper growth, while desktop and tablet devices contributed 10% of the increase. The company's efforts toward enhancing mobile-centric product design and test-and-learn velocity led to a 40% increase in mobile click-based revenues. Mobile hotel shoppers grew 12% in the third quarter and accounted for 50% of the total hotel shoppers for the first time in TripAdvisor's history.
The company's management has decided to focus on improving the revenue per hotel shopper in the next few quarters, which is a critical business metric. TripAdvisor anticipates that click-based revenue growth and revenue per hotel shopper growth will improve in the fourth quarter compared to the third quarter.