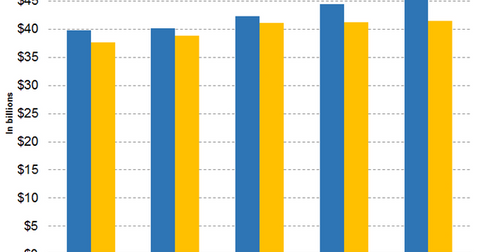 Is MRK or GSK Expected to Report Faster Revenue Growth in 2019?
By Margaret Patrick

Updated
Revenue guidance for 2019
On its fourth-quarter earnings conference call, Merck & Co. (MRK) guided for revenue of $43.2 billion–$44.7 billion, a YoY (year-over-year) rise of 2%–6% despite anticipated challenges associated with drug pricing pressures, the impact of recent and upcoming patent expiries, and foreign currency fluctuations. Assuming mid-January rates, the company has guided for a negative revenue impact of 1% related to foreign exchange. The company expects its oncology, vaccines, animal health, and hospital and specialty businesses to be its key growth drivers in 2019.
Article continues below advertisement
In its fourth-quarter earnings press release, GlaxoSmithKline (GSK) reiterated its guidance of a low- to mid-single-digit compound annual growth rate in its revenue at a constant exchange rate from 2016 to 2020. While this forecast assumes exchange rates in 2015, it also assumes the generic erosion of Seretide/Advair. In 2018, US sales of Advair dropped 30% YoY (year-over-year) to 1.1 billion British pounds. On February 12, Mylan (MYL) issued a press release announcing the launch of Wixela Inhub, the first generic version of Advair, priced 70% lower than the branded drug.
Wall Street's projections
Analysts expect Merck's revenue to rise 4.92% YoY to $10.53 billion in the first quarter, 5.04% YoY to $44.43 billion in 2019, 5.25% YoY to $46.76 billion in 2020, and 5.43% YoY to $49.30 billion in 2021.
Analysts expect GlaxoSmithKline's revenue, converted to dollars, to fall 3.76% YoY to $9.67 billion in the first quarter and then rise 0.36% YoY to $41.23 billion in 2019, 0.53% YoY to $41.45 billion in 2020, and 3.78% YoY to $43.01 billion in 2021.
Merck is not only expected to report higher absolute revenue but also a higher YoY revenue growth rate from 2019 to 2021.
Next, we'll discuss EPS projections for Merck and GlaxoSmithKline in 2019.