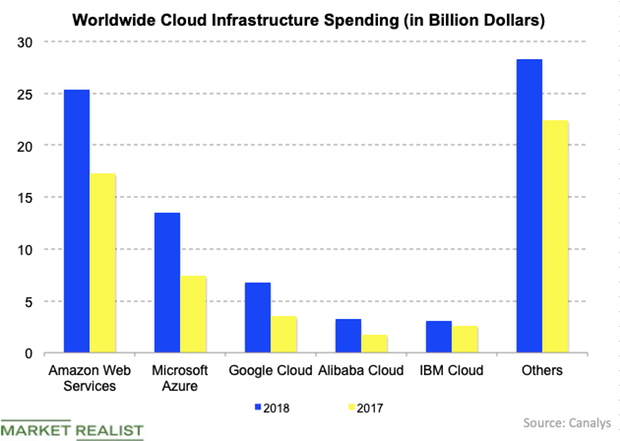 Cloud Infrastructure Continues to See Spectacular Growth
Cloud infrastructure spending grew 47% last year
The global cloud infrastructure space has continued to grow strongly. The market leader, Amazon (AMZN) Web Services (or AWS), has maintained annual growth of over 40%.
AWS, despite its size, continues to protect its market share. It had a 31.7% market share last year, and AWS grew 47.1% to a formidable $25.4 billion. Meanwhile, Microsoft's (MSFT) Azure grew 82.4% to $13.5 billion. Although Microsoft does not disclose its exact Azure revenue, it said that it grew 76% YoY in the most recent quarter.
This continued growth has motivated companies and governments to keep spending big on renting computing power. According to Canalys, global cloud infrastructure spending soared 46.5% YoY (year-over-year) to $80.4 billion last year.
Article continues below advertisement
Article continues below advertisement
Microsoft Azure continues to gain market share
According to Canalys, Azure's market share expanded YoY last year to 16.8% from 13.5%. Also, Google's (GOOG) huge cloud investments seem to be paying off—Canalys reported that Google Cloud revenue grew 93.9% last year to $6.8 billion, placing third in the cloud infrastructure space. Alibaba (BABA) overtook IBM (IBM) Cloud and climbed to fourth place, growing ~92% to $3.2 billion.
Canalys pointed out these companies' heavy capex boosted their growth. The top five cloud infrastructure players now account for 64.8% of the market, compared with 59.2% in 2017.