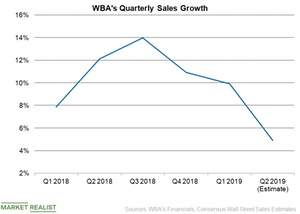 Will Walgreens's Strategic Initiatives Boost Its Sales?
Sales growth trend
Walgreens Boots Alliance's (WBA) sales rose 9.9% to $33.8 billion in the first quarter of fiscal 2019 (which ended on November 30, 2018) driven by its acquisition of Rite Aid's stores. Walgreens's sales growth rate has slowed over the last three quarters.
Analysts expect Walgreens's sales to rise 4.9% to $34.6 billion in the second quarter of fiscal 2019. Analysts expect the company's fiscal 2019 sales to rise 4.5% to $137.4 billion, which would reflect a slowdown from its sales growth of 11.3% in fiscal 2018.
Article continues below advertisement
Article continues below advertisement
Strategic initiatives
Walgreens is strengthening its omni-channel capabilities to boost its sales. In December 2018, Walgreens launched its next-day prescription delivery service in collaboration with FedEx (FDX).
Walgreens has also been taking several measures to improve its store traffic to drive sales growth. In September 2018, Walgreens announced the expansion of its partnership with Sprint (S) to open 80 additional Sprint Express locations within Walgreens stores. In October 2018, Walgreens and diagnostic testing company LabCorp announced the expansion of their strategic deal to open 600 patient service centers at Walgreens's US stores over the next four years. Walgreens has also partnered with Kroger (KR) to operate Kroger Express grocery sections within certain Walgreens locations.
In December 2018, Walgreens collaborated with Alphabet's subsidiary Verily to innovate solutions that would improve healthcare for patients with chronic conditions. Walgreens and Verily agreed to work together on various projects to help leverage Verily's healthcare technology innovations and Walgreens's extensive store network.
In June 2018, Walgreens struck a deal with health insurance company Humana, pursuant to which Partners in Primary Care (Humana's subsidiary) would operate senior-focused primary care clinics inside two Walgreens stores in Kansas City. As per a November 2018 Wall Street Journal article, Walgreens and Humana were also in initial talks to buy stakes in each other. Walgreens is under pressure after rival CVS Health (CVS) strengthened its position with its $70 billion acquisition of health insurer Aetna.
Walgreens is also attempting to improve its sales by enhancing its beauty offerings. Last year, Walgreens partnered with beauty retailer Birchbox to open Birchbox shops within its stores.
Walgreens's most recent announcement is related to its tie-up with Microsoft (MSFT) to develop healthcare solutions under a seven-year agreement.
We'll discuss Walgreens's efforts to improve its margins in the next article.