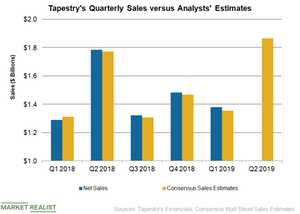 Will Tapestry's Strategic Initiatives Boost Its Sales Growth?
By Sirisha Bhogaraju

Updated
Trend in top-line growth
Tapestry's (TPR) sales grew 31% to $5.9 billion in fiscal 2018, which ended on June 30, 2018, reflecting the impact of the Kate Spade acquisition and growth in the Coach brand's sales. In the first quarter of fiscal 2019, Tapestry's sales grew 7.2% to $1.38 billion, beating analysts' estimate of $1.36 billion. This growth was driven by a 4.0% rise in Coach sales to $961 million and a 21.1% increase in Kate Spade sales to $325 million, partially offset by a 1.4% decline in the sales of Stuart Weitzman to $95.1 million.
Stuart Weitzman's sales continued to be adversely impacted by supply chain challenges, which began in the fiscal 2018 third quarter. Tapestry has addressed these issues and expects the Stuart Weitzman brand to deliver sales growth in the second quarter of fiscal 2019.
Article continues below advertisement
Aside from the issues related to Stuart Weitzman's sales, another drawback in the fiscal 2019 first quarter was the 5% decline in Kate Spade's global same-store sales owing to a lack of new products. Tapestry is optimistic about Kate Spade's same-store sales rising in the second half of fiscal 2019.
Tapestry expects its fiscal 2019 sales to rise in the mid-single-digits. Analysts expect the company's second-quarter sales to rise 4.5% to $1.9 billion and full-year fiscal 2019 sales to grow 4.9% to $6.2 billion.
Strategic initiatives
Tapestry is accelerating its international expansion through distribution buybacks. Tapestry completed the buybacks of the Kate Spade operations in Singapore, Malaysia, and Australia in September and October. The company also acquired the Stuart Weitzman business in southern China and entered an agreement to buy back the Stuart Weitzman business in Australia by next summer.
China continues to be a key focus area for Tapestry. With regard to the concern about the tariffs on Chinese products, Tapestry's CFO Kevin Wills believes that currently, tariffs will not have a material impact given the diversity in sourcing.
Tapestry is also focused on innovation across its brands. Recent launches include the Dreamer line in the Coach brand and the SW-612 sneaker under the Stuart Weitzman brand.
Tapestry continues to optimize its store network. In the first quarter, the company added 24 net new stores with a major focus on international markets. As of the end of fiscal 2019, Tapestry operated 1,456 stores.