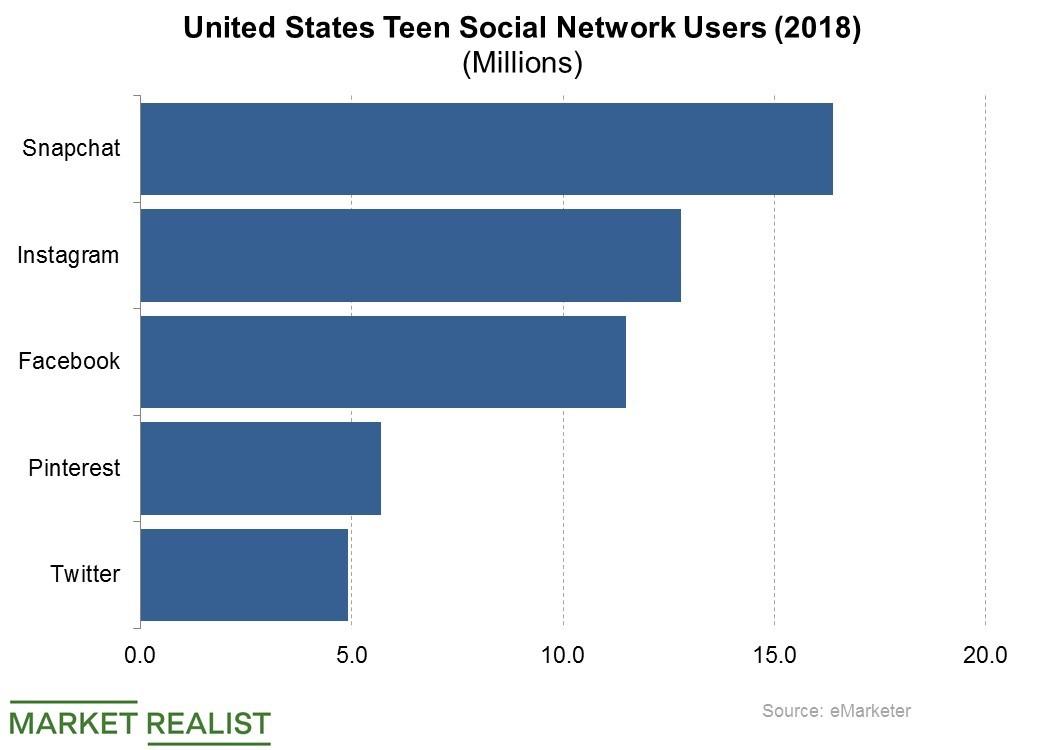 What Makes Snapchat So Popular with Teens?
American teens' top social media app
According to a report by eMarketer, Snap's (SNAP) Snapchat is the top social media app for American teens. It beats out Facebook's (FB) namesake app, Instagram, Pinterest, and Twitter (TWTR) by a large margin in terms of teen usage. The report estimated that Snapchat would gain 1.2 million users in the 12–17 age bracket in 2018, while the Facebook app was expected to lose 2.2 million users in that age group. The report said that Snapchat would exit 2018 with 16.4 million teen users in the United States compared to 12.8 million for Instagram, 11.5 million for Facebook, 5.7 million for Pinterest, and 4.9 million for Twitter.
Article continues below advertisement
Survey shows Snapchat makes people happy
What makes Snapchat American teens' favorite social app? According to Snap, it is because Snapchat makes people happy. In a survey commissioned by Snap to understand why people use their favorite apps, 95% of Snapchat users said the app makes them feel happy, beating all the other apps tested in the survey on this measure.
Snapchat in shopping
The survey, which interviewed more than a thousand app users between the ages of 13 and 44, put Snapchat on top as the preferred app for socializing and shopping. On shopping usage in particular, 19% of the surveyed people chose Snapchat, 14% chose Twitter, 13% chose Instagram, 12% chose Facebook, and 8.0% chose Google's (GOOGL) YouTube. The rise of Snapchat for shopping shines light on Snap's deal with Amazon (AMZN) last year. In September last year, Snap announced an agreement where it would help send shoppers to Amazon's marketplace.