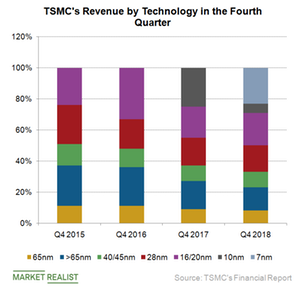 TSMC's Process Node Strength Reflects in Its Q4 Revenue
TSMC secures process node leadership
Previously, we saw that TSMC's (TSM) demand is slowing due to macroeconomic environment weakness. However, it is benefiting from its advanced manufacturing technology. The foundry surpassed Intel (INTC) in the manufacturing node by launching its 7nm (nanometer) technology last year, whose benefits are visible in TSMC's fourth-quarter results.
A smaller node improves transistor density, thereby improving performance and power efficiency. The 7nm node helped TSMC secure new customers. For instance, Advanced Micro Devices (AMD) selected TSMC to manufacture its 7nm CPUs (central processing units) and GPUs (graphics processing units).
Article continues below advertisement
TSMC's revenue by technology
TSMC's fourth quarter is usually strong as it includes large orders from Apple (AAPL). In 2016, TSMC became the sole manufacturer of Apple's A-series processors, boosted TSMC's revenue from the 16nm node. In the fourth quarter of 2017, TSMC's 10nm node accounted for 25% of its revenue, again driven by orders from Apple.
In last year's fourth quarter, the 7nm node accounted for $2.16 billion (23%) of TSMC's revenue. Around 75% of the 7nm capacity was used to manufacture Apple's A-series processors. Last year, 7nm node accounted for 11% of TSMC's revenue altogether.
The fast migration to newer nodes is impacting TSMC's gross margin, as new process nodes have lower yields and more profitable nodes such as 28nm nodes are being underused. In last year's fourth quarter, the 28nm node accounted for 17% of TSMC's revenue, compared with 18% in the year prior. Next, we'll see how TSMC's technology nodes influence its profit margins.
Check out all the data we have added to our quote pages. Now you can get a valuation snapshot, earnings and revenue estimates, and historical data as well as dividend info. Take a look!